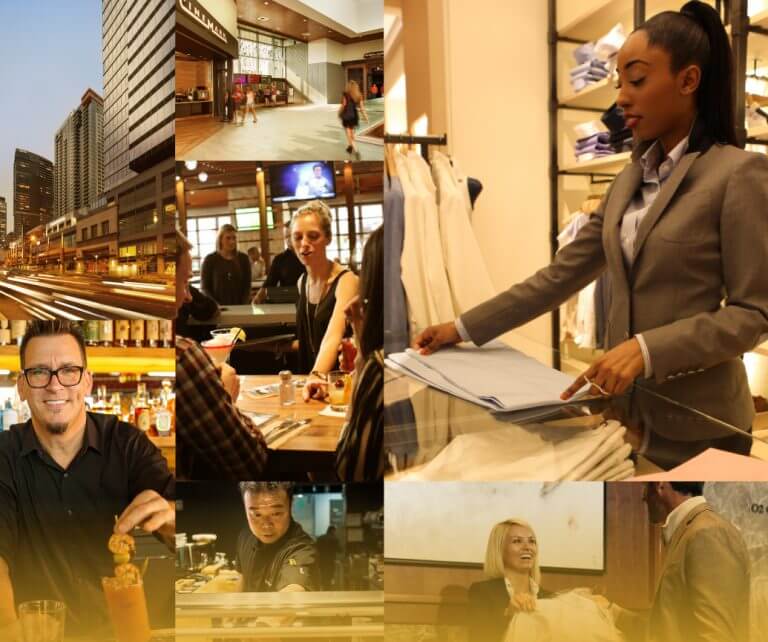 Employee
Resources
Learn about the perks of working at The Bellevue including special offers including participating stores and restaurants, bus subsidy and employee parking areas.
M-Sa 9:30am-9:30pm / Su 11am-7pm

M-Sa 9:30am-9:30pm / Su 11am-7pm

M-Sa 9:30am-8pm / Su 12noon-5pm
The Collection Card
The Collection Card
Featured Offers
Pearl Bar & Dining - 20% off lunch.
Escape Outdoors - Enjoy 20% off all regular priced merchandise when you present the Collection Card.
Ben & Jerrys - Get a free waffle cone or free hot fudge with the purchase of any size ice cream. Offer valid Monday through Friday.
Obadiah Salon - 10% off services with participating stylists.
Employee Parking Overview
Only at The Bellevue Collection can you find over 10,000 free retail parking spaces in one location. Parking is complimentary for guests while visiting the shops, restaurants and entertainment at Bellevue Square, Bellevue Place and Lincoln Square.
Bellevue Square
Bellevue Square has over 6,000 parking spaces in three main areas, covered for your comfort and within close distance to the entrances. Here's a tip: Take the NE 4th Street exit from I-405 and head west. Take a right onto 100th Ave. NE and you'll find easy access to the largest garage, with a speed ramp to the third floor for convenient access.
Bellevue Place and Lincoln Square
Bellevue Place and Lincoln Square parking is complimentary with validation from Bellevue Place and Lincoln Square retail, restaurants and entertainment. Tunnel connection located on Level P3.
Monday-Friday until 8:00 p.m. – 3 hours of free parking with validation.

After 8:00 p.m. – No validation is necessary.

Saturday and Sunday – No validation is necessary.
Register for Employee Parking or ORCA Pass click here.
Bellevue Square Valet
Ace Parking:

West Garage – (425) 455-2956

North East Garage – (425) 455-6764

Thursday – 4:00 PM-10:00 PM

Friday & Saturday – 9:30 AM-11:00 PM

Sunday – 11:00 AM-9:00 PM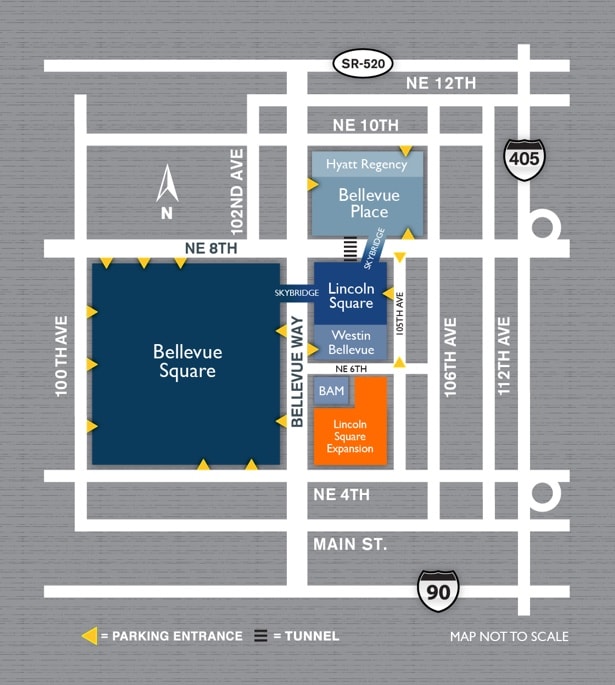 Retail Employee Transit Subsidy
Employees who work at any retail store, restaurant, service or hotel within The Bellevue Collection is eligible for a monthly $15.00 transit subsidy! Just place $90.00 or more on your monthly ORCA card and bring the receipt to the Kemper Development Company offices, located a 575 Bellevue Square above Crate and Barrel Mon – Fri 8 AM – 5 PM. You'll also need proof of employment within The Bellevue Collection (such as a recent pay stub) and a valid proof of your identification.
Bellevue Collection Retail Employees who use the ORCA PASS!
A new promotion is available to you that offers at $25 e-gift card just for signing up! The program is called JUST ONE TRIP.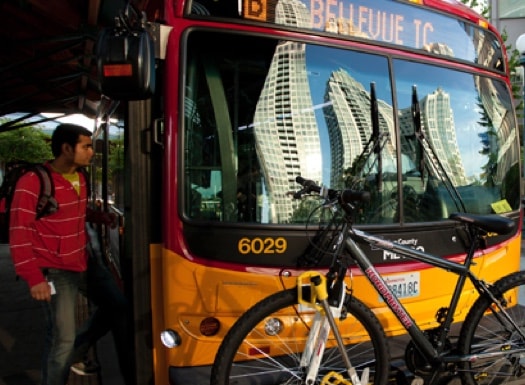 Choose to ride the bus and leave the driving to the bus driver! If you own a car, riding the bus to work or school is rewarding because it puts less wear and tear on it, you do not have to pay for gas and you can relax during the trip by reading a book or taking a nap. New to riding the bus or taking the bus to a new destination? The links below will make riding the bus a breeze.
Questions?
Contact:
Alison Crosier
Transportation Services Manager at The Bellevue Collection:
a.crosier@kemperdc.com
(425) 460-5712