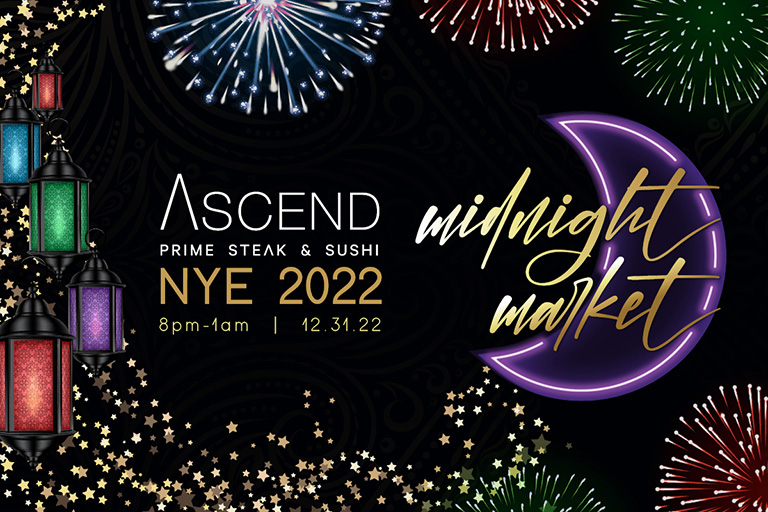 Ascend Prime Steak & Sushi Presents: NYE 2022 Midnight Market
Ascend Prime Steak & Sushi
Eats
Dining
Experience Ascend Prime Steak & Sushi unlike before with the NYE 2022 Midnight Market! This formal attire soiree features an all-inclusive dining experience, 22,000-square-feet of live entertainment, elevated keepsakes, and front row seats to the 2023 Ascend Hospitality Group (AHG) x Amazon Bellevue fireworks show!
In celebration of 2023, you're invited to indulge in a variety of spectacular moments you won't soon forget as Ascend transforms into the Midnight Market:
• Unlimited progressive dining with six culinary market "vendors"
• Exclusive specialty cocktails
• Live DJ performance by award-winning DJ Moobek
• Silent disco experience by SoundDown Seattle
• Captivating street performers
• Marquee photo moment in partnership with The Seattle Times
• Premium beverage sponsors Veuve Clicquot & Dom Perignon
• PLUS the best view of the 2023 AHG x Amazon Bellevue Fireworks Show
Ring in the new year at Ascend Prime Steak & Sushi's Midnight Market! General admission tickets are $300 and can be purchased here, VIP can be reserved by emailing Chris Bolin at cbolin@ascendprime.com.
31 Dec 2022