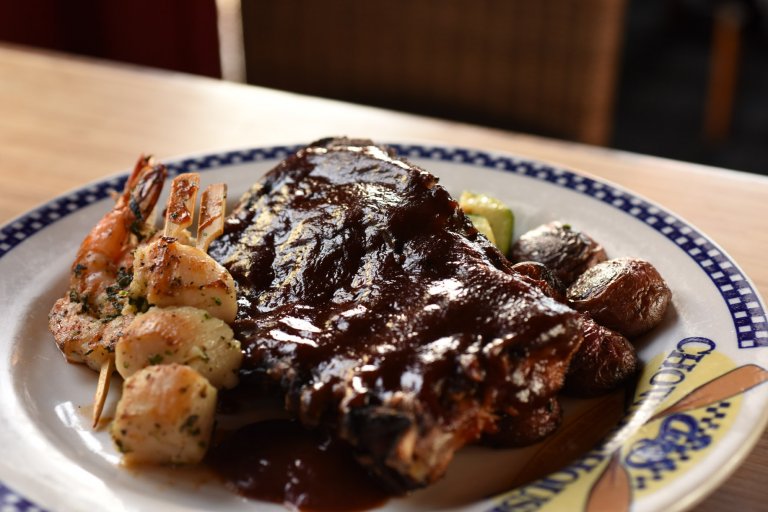 Delicious Chef's Specials At Duke's Seafood
Duke's Seafood
Eats
Dining
Visit Duke's Seafood at The Bellevue Collection through the end of the year to try these mouthwatering Chef's Specials.
Chandon Brut Rosé - California *Napa Green Certified Winery
Creamy and seductive with definitive structure, this California Rosé is wonderfully versatile and a great pairing with Wild Prawns, Salmon and Shellfish 12.90 split (187ml)
Weathervane Scallop Ravioli - $32.90
Seared Alaska Weathervane Scallops with freshly made pumpkin & mascarpone stuffed ravioli with a white wine-garlic-butter sauce, tomatoes, fresh seasonal vegetable.
Dangerously Killer Prawns - $14.90
Wild Mexican Pacific Prawns sautéed with fresh garlic and organic herbs in a slightly spicy sauce served with local Essential Baking Co. rosemary garlic bread crostinis.
BBQ Ribs & Seafood Mixed Grill  - $34.90
½ rack of Baby Back Pork Ribs with skewered and seared Alaska Weathervane Scallops and Wild Mexican Pacific Prawns, organic baby red potatoes and fresh seasonal vegetables.
For details, more specials and more information, visit dukesseafood.com
1 Nov - 31 Dec 2021