Diwali Celebration
Saturday, October 19, 11am – 6pm | Bellevue Square 
Diwali, the Festival of Lights, is a celebration of India's most significant holidays symbolizing the victory of light over darkness. Join The Bellevue Collection and Seattle Maharashtra Mandal community for this celebration of new beginnings, light and joy with performances, cultural displays, henna, and Diwali crafts. More performance and activity details see below!
About Diwali
Diwali is a time to welcome a new year, happiness and prosperity. It is a festival of lights that follows the lunar calendar and is similar to a new year celebration. Diwali is one of India's most celebrated holidays and is recognized by people from different faiths, including Hindus, Jains, Buddhists, Sikhs and many others.
This bright and colorful festival symbolizes the victory of good over evil. The name Diwali or Deepavali is derived from deep "light" and avail "a row" meaning "a row of lights" that Indians use to light their homes during the celebration. Traditionally, Diwali is celebrated over five-days by gathering with family, lighting clay lamps, displaying floral décor, rangoli, fireworks, sharing sweets, lavish feasts and worship to Goddess Lakshmi, the Goddess of Wealth and Fortune.
Traditions around the world include:
Fireworks and the lighting of lanterns and oil lamps light the streets, inside or outside of houses
Traditional decorating with rangoli and floral garlands
Visiting relatives and celebrating with food and sweet treats
Worshipping Lakshmi, the Goddess of Wealth, to bring blessings for the New Year
Center Court Stage Performance
Bellevue Square Center Court
Watch cultural Indian performances including dance, visual arts, and music to celebrate the Festival of Lights.

Activities
FLORAL RANGOLI ART
Bellevue Square Center Court
Watch Seattle Maharashtra Mandal community artists construct a rangoli made of flowers and petals on display in Bellevue Square.
RANGOLI COLORING WITH MICROSOFT FRESH PAINT
Outside the Microsoft Store
Paint and print your own rangoli art to take home using Microsoft Fresh Paint.
HENNA ARTISTS
First Level by GAP and Microsoft | Second Level by lululemon & Aveda Experience Center
Have a SARAHENNA Organic Body Art artist apply complimentary henna designs for you to enjoy.
SAND RANGOLI ART
First Level by GAP & Nordstrom
See rangoli artwork on display, created by Seattle Maharashtra Mandal community artists. Rangolis feature materials such as colored sand, rice, flowers, grains or dry flour to make beautiful designs and patterns.
CREATE YOUR OWN DIWALI LANTERN
2nd Level Courtyard (between J. Jill and J. Crew)
Lanterns are one of the many forms of lights and decorations used during Diwali. Enjoy making a lantern to hang in your home.
FOOD SAMPLING
Bellevue Square Center Court | Beginning at 12 pm
Enjoy traditional food samples from Moksha Indian Cuisine. *While supplies last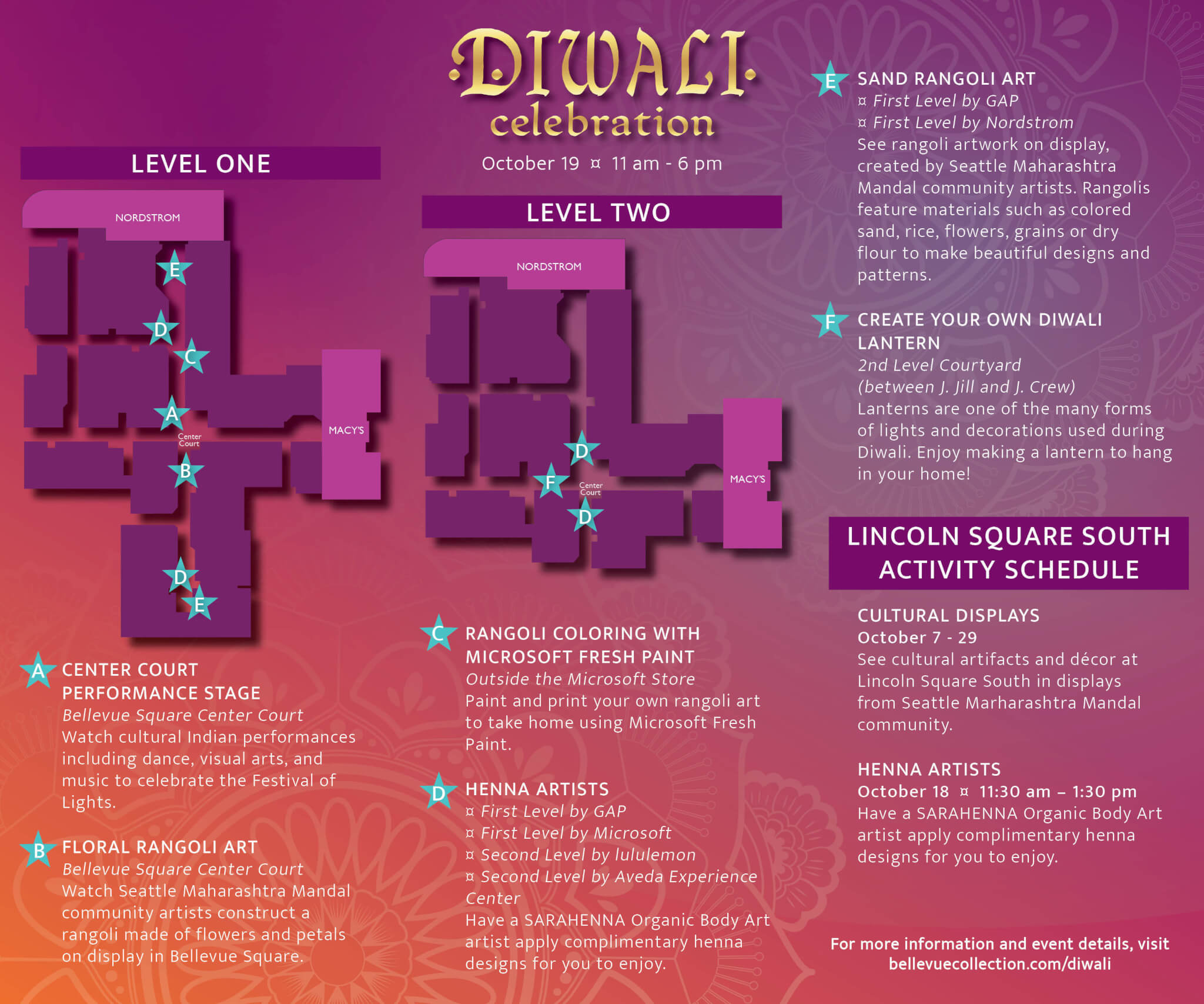 Instagram Contest
Visit the elephant pop spot in Bellevue Square Center Court at The Bellevue Collection for a chance to win $250 gift card to The Bellevue Collection!
Take a picture at the Diwali elephant pop spot in Bellevue Square Center Court.
Follow @bellevuecollection on Instagram
Tag your photo on Instagram with @bellevuecollection and #tbcDIWALI
 
The Bellevue Collection Diwali Instagram photo contest will begin at 9:30 a.m. October 9, 2019, and ends at 9:30 p.m. on October 29, 2019. For official rules and regulations click here.
5 Day Celebration
Diwali is a five-day festival with each day having its own celebration.
Day One: Dhan Trayodashi / Dhanteras
Dhan Trayodashi represents prosperity and growth of wealth. It is celebrated with the purchase of silver and gold. People also decorate their home with lights, rangoli (patterns made with colorful sand and petals) and garlands of flowers.
Day Two: Narak Chaturdashi / Naraka Chaturdasi
Narak Chaturdashi is the second day of the five-day celebration and is known for the legend of Goddess Kali killing the demon Narakasura. People celebrate by cleansing their soul to abolish negative or evil thoughts with the power of positive thinking.
Day Three: Diwali / Deepavali
Diwali, also known as Deepavali, is the main day of the festival. This day coincides with the darkest night in North and West India. Families gather to pray to Goddess Lakshmi for wealth and prosperity.
Day Four: Bali Pratipada / Annakut
Bali Pratipada is the fourth day and is the first day of the new year, Kartik. It is celebrated by gathering with family and friends, enjoying festive food and exchanging gifts.
Day Five: Bhai Duj / Bhaubeej
Bhai Duj is the final day of the celebration representing the bond between brother and sister, celebrated with the exchange of gifts.