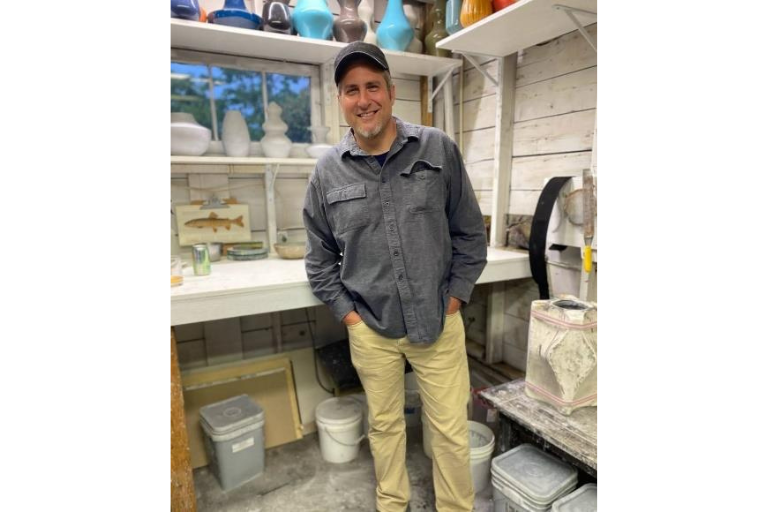 Meet Bruce Thompson at Made In Washington
Made In Washington
Home
Entertainment
Visit Made In Washington at Bellevue Square on Saturday July 2nd from 12 - 6 pm to meet Bruce Thompson of B Thompson Studio.
We're excited to announce that B Thompson Studio artist Bruce Thompson from Tacoma will be in our Bellevue Square Store showcasing his handcrafted ceramic and wood table lamps. Stop by and Meet the Artist and view his elegant collection. Hand thrown modern designs perfect for the mid-century home, walnut hard wood spindles, glazed ceramic bases with linen drum shades come together in beautiful designs in a vintage pallet.
Bruce has over 20 years of experience in ceramic art and design. With an early love of building, expression and art he studied ceramics at Cranbrook Academy of Art. His work experience includes exhibition design for The Norton Simon Museum of Art in Pasadena and Ace Gallery in Los Angeles. He perfected his lamp making skills working in design and production for Christopher Spitzmiller in NYC. He is currently teaching ceramics courses at South Puget Sound Community College in Olympia.
"All lamps are designed and made by hand in my home studio in Tacoma, Washington. My designs embrace beautifully made objects with simple lines and natural materials. The ceramic forms are shaped, hand-thrown, and trimmed on a potter's wheel. Plaster molds are made from these forms to allow for identical pairs and a broad range of color choices. I select locally supplied walnut hardwood for the lathe turned spindles and bases to complement the ceramic forms and finish the lamps with natural linen backed drum shades. Time is taken to produce a beautifully crafted item using the best quality materials." - Bruce Thompson
For more info, please call 425-454-6907.
2 Jul 2022