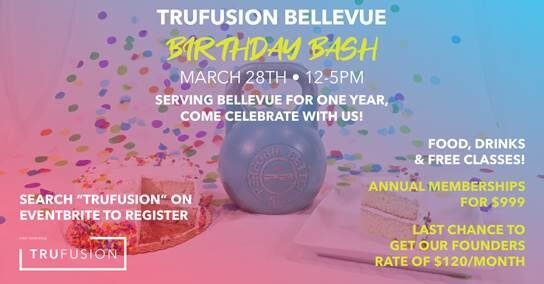 TruFusion Bellevue Birthday Bash
TruFusion
Lifestyle
Entertainment
TruFusion Bellevue is turning 1! Join us for the birthday celebration on March 28th, 2020.
We'll have food, drinks, and cupcakes. Invite your friends to the party and come to the free classes that we are offering that day!
We'll also be having special sales for that day only! Including 30% off apparel and merchandise, and the return of $999 annual memberships!
Class Schedule:
2:00-3:00PM Tru TRX
2:30-3:15PM Tru Flow Express
3:30-4:15PM Barefoot Bootcamp Express
4:00-5:15PM Tru Signature Series (Hatha)
4:30-5:30PM KettleBooty
Don't forget your yoga mat and water!
RSVP here https://www.eventbrite.com/e/trufusion-bellevue-birthday-bash-tickets-96737092247
28 Mar 2020