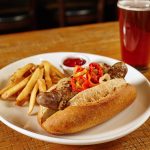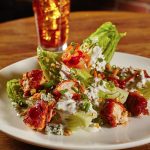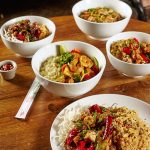 Location
View Full Map
Henry's Tavern
location

Lincoln Square Third Floor VIEW ON MAP
$$
American
Casual
Trendy
If you find yourself looking for a sports bar or ale house while shopping with friends and family at the Bellevue Square Mall we would love to serve you a beer from one of our 100 on tap or a delicious meal from our scratch kitchen. We source a number of ingredients for our fresh made-to-order fare from local sources. Our extensive beer list focuses on local breweries with ever-changing seasonal and hard to find specials.
Specials
All New Brunch Menu -
Upscale scratch-kitchen fare tastes great anytime, so Henry's Tavern is now serving it. Enjoy a $3 Bloody Mary or mimosa with your meal.
Every Saturday & Sunday, 9:30 am - 2 pm.
45-Minute Lunch
Please inform host of your 45-minute lunch.
Hours
Mon
11:00 am - 11:00 pm
Tue
11:00 am - 10:00 pm
Wed-Thu
11:00 am - 11:00 pm
Fri-Sat
11:00 am - 12:00 am
Sun
11:00 am - 11:00 pm
Happy Hours
Mon
3:00 pm - 6:00 pm
Mon
9:00 pm - 11:00 pm
Tue
3:00 pm - 6:00 pm
Tue
9:00 pm - 11:00 pm
Wed
3:00 pm - 6:00 pm
Wed
9:00 pm - 11:00 pm
Thu
3:00 am - 6:00 am
Thu
9:00 am - 11:00 pm
Fri
3:00 pm - 6:00 pm
Fri
10:00 pm - 1:00 am
Sat
3:00 pm - 6:00 pm
Sat
10:00 pm - 1:00 am
Sun
3:00 pm - 6:00 pm
Sun
9:00 pm - 11:00 pm
Location
Lincoln Square Third Floor
Parking
Lincoln Square North Parking Garage
Location
Lincoln Square Third Floor
Parking
Lincoln Square North Parking Garage