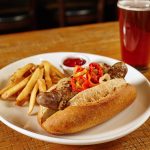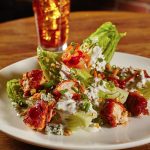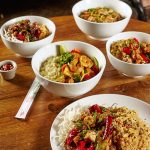 Henry's Tavern
$$
American
Casual
Trendy
If you find yourself looking for a sports bar or ale house while shopping with friends and family at the Bellevue Square Mall we would love to serve you a beer from one of our 100 on tap or a delicious meal from our scratch kitchen. We source a number of ingredients for our fresh made-to-order fare from local sources. Our extensive beer list focuses on local breweries with ever-changing seasonal and hard to find specials.
Specials
P-P-P-PRESSURE! IT'S TRIVIA TIME
In case you needed a better reason to eat & drink on a Tuesday. Join us for a fun night of trivia sponsored by Geeks Who Drink. Winning teams get street cred, bar cash and other prizes. Bonus Questions for free pints are sprinkled throughout the quiz. You don't have to be a Trivia God to enjoy the quiz because… well, BEER.
Every Tuesday, 7 – 9 pm.
45-Minute Lunch
Please inform host of your 45-minute lunch.
Hours
Mon-Thu
11:00 am - 11:00 pm
Fri-Sat
11:00 am - 12:00 am
Sun
11:00 am - 11:00 pm
Happy Hours
Mon
3:00 pm - 6:00 pm
Mon
9:00 pm - 11:00 pm
Tue
3:00 pm - 6:00 pm
Tue
9:00 pm - 11:00 pm
Wed
3:00 pm - 6:00 pm
Wed
9:00 pm - 11:00 pm
Thu
3:00 am - 6:00 am
Thu
9:00 am - 11:00 pm
Fri
3:00 pm - 6:00 pm
Fri
10:00 pm - 1:00 am
Sat
3:00 pm - 6:00 pm
Sat
10:00 pm - 1:00 am
Sun
3:00 pm - 6:00 pm
Sun
9:00 pm - 11:00 pm
Location
Lincoln Square Third Floor
Parking
Lincoln Square North Parking Garage