New Year's Eve Looks!
December 27, 2018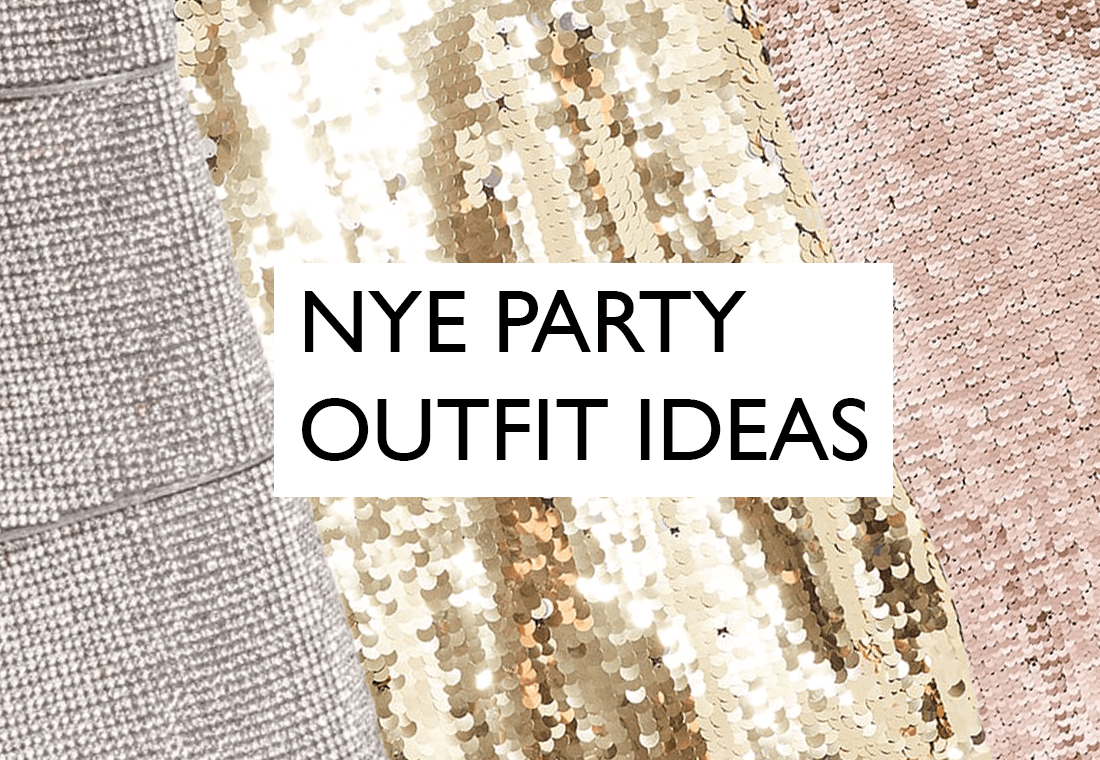 Ring in the new year with a look that will put you in the mood to celebrate.  Below you'll see a few different takes that each have a bit of bling and will be a hit with whoever you celebrate with. Note that there are quite of few sales going on with these brands, so don't wait too long to pick these up at a great price, too! Find them all at Bellevue Square.
Tumeric Pop
This look is quite a statement with it's eye-catching turmeric color that has a grown up feel to it. The sheer long sleeve top is a nice contrast, that subtly shows skin. Floral tights play into adding some texture to the slip dress and then, add a bit of bling with strappy heels. Statement earrings that graze your shoulders complete the look.
Zara Strappy Dress $49.90, Metallic Thread Top $35.90, Metallic Fringe Earrings $25.90 (sale: 12.99)
Nordstrom Spanx Floral Shaping Tights $42 (sale: $25.20)
Aldo Shoes Aroclya Heel $85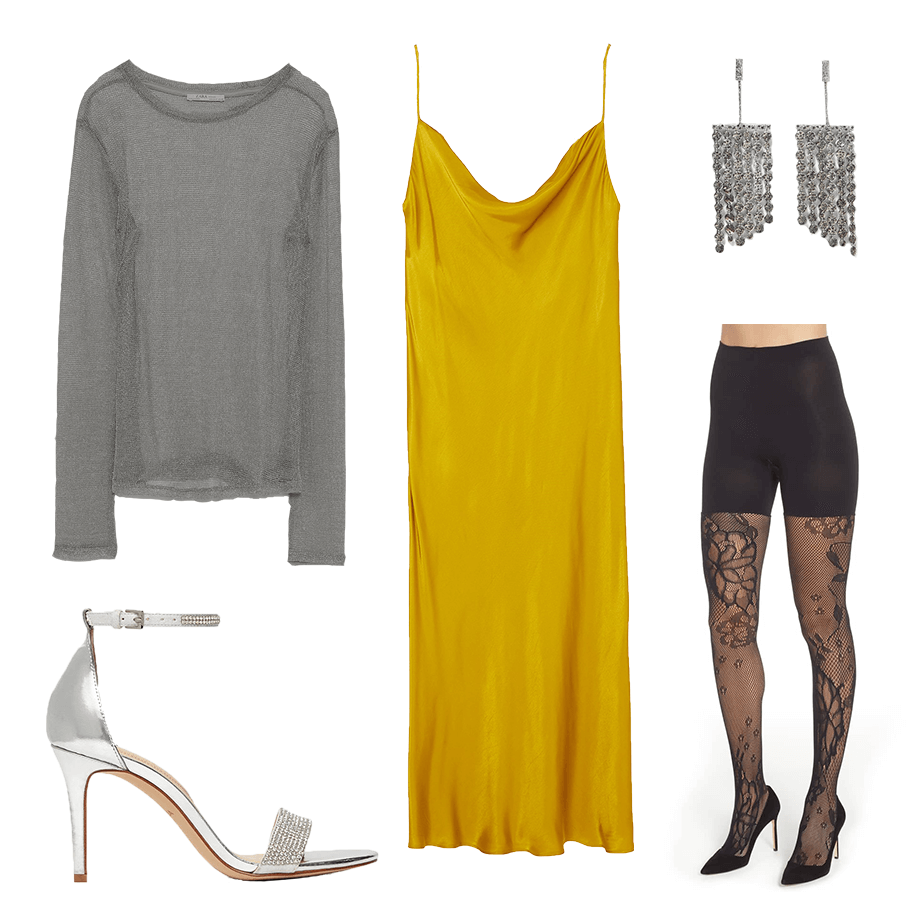 Mixed Shine
Despite three pieces in this look all having sparkle, they actually act as neutrals. A white cozy sweater balances the shine and relaxes it from looking like you tried too hard. The booties are the star of this look, not just because they catch the attention of every magpie in the room, but also how they can flatter your leg line. Who wouldn't want that?
Banana Republic Sequin Mini Skirt for $119.
Nordstrom ALLSAINTS Sylvie Sweater for $198 (sale: $158.40)
Steve Madden Winona Rhinestone Booties for $149.95
Aldo Shoes Galollaway Clutch $55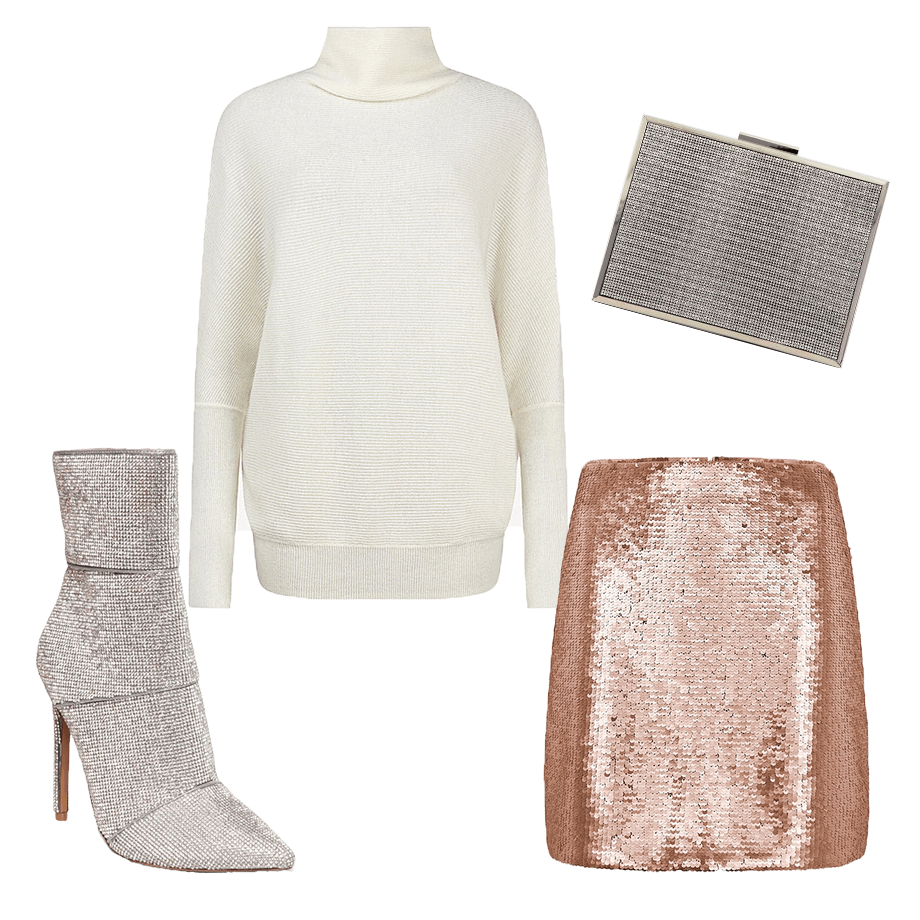 Little Black 2-Piece
For a sleek look with a bit of edge, a sequined t-shirt and lean matching skirt in all black give a chic, understated vibe. Top it with a black beanie to add some street style, but still luxe with a cashmere one. Pair it with sneakers or go more bling with metallic heels.
Michael Kors  Sequined Jersery T-shirt $140 (sale: $63), Sequined Jersey Pencil Skirt $175 (sale $91.88), Harper Heel $170 (sale: $82.88)
Aritzia Auxiliary Cashmere Beanie $50 (sale: $45)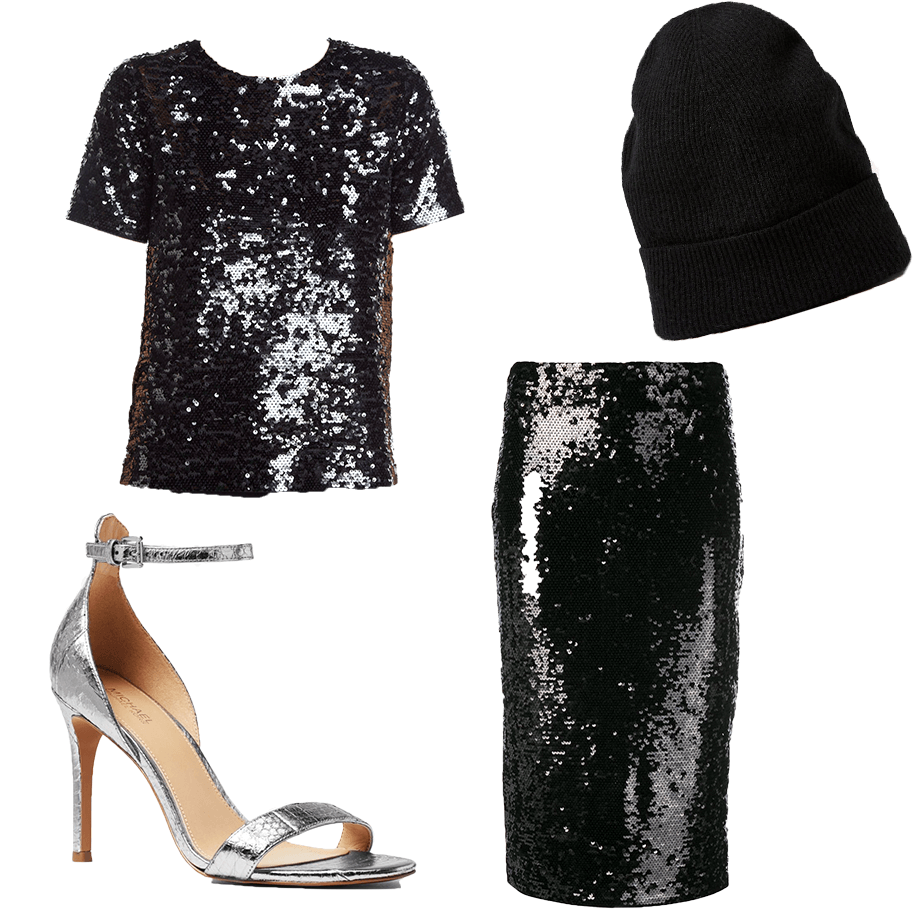 Comfy Dressed Up
If you are hopping to a few locations to celebrate, this outfit is perfect for dealing with the cold and potential walking you will encounter. The sequined top and deep blue corduroy pant are topped with a shearling coat that is lined with shearling, so you will be cozy and warm despite the weather. The heels paired with this look also have a chunkier heel, so your footing will be more secure and made for late night jaunts. The finishing touch are a pair of crystal hoop earrings that won't compete with your high shine top.
J.Crew High-rise Navy Corduroy Pant $110 (sale: $89.99)
Aldo Shoes Keclya Heel ($80)
Zara Sequin Top $49.90 (sale: $25.99)
Madewell Sherpa Cocoon Coat $258
Kendra Scott Rhoan Hoop Earrings $75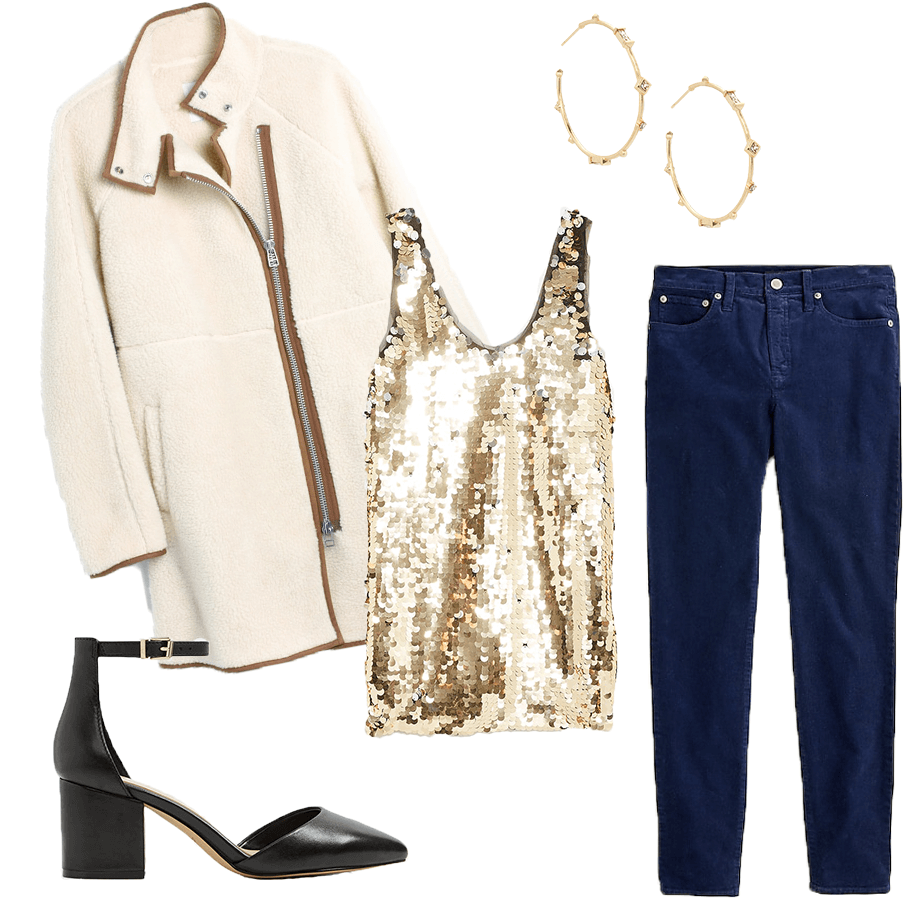 The sales prices listed above are listed as of 12/26/18. Prices and availability may vary.