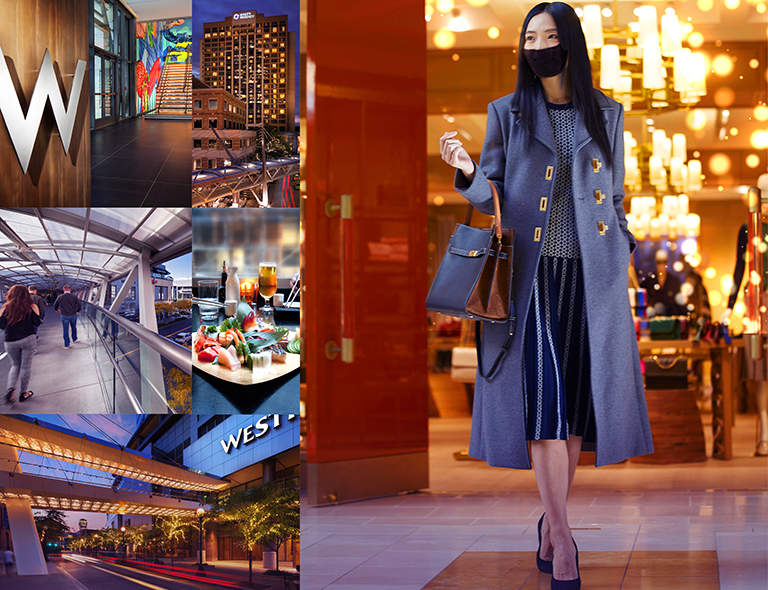 Change Your Scenery
For a Work or Play Getaway

Choose from 3 Luxury
Bellevue Collection Hotels
All Connected to Shopping and
Dining, all in one place.


Special Weekend Shopper Packages
Experience all the best of Bellevue—shop The Bellevue Collection and stay at Hyatt Regency Bellevue at Bellevue Place, The Westin Bellevue at Lincoln Square or W Bellevue at Lincoln Square South. Package includes deluxe accommodations at the hotel, a special Bellevue Collection Welcome Kit that includes a VIP Passport, special savings or gifts at participating stores and a $100 (Hyatt Regency Bellevue), $100 (The Westin Bellevue) or $100 (W Bellevue) gift card per night, good at all Bellevue Collection shops and restaurants.
Hyatt Regency Bellevue
Hyatt Regency Bellevue
Step into the sophisticated Hyatt Regency Bellevue on Seattle's fashionable Eastside and feel an air of elegant tranquility wash over you. Rich woods, natural finishes, luxurious fabrics and a warm and welcoming staff await.
Shop and Stay Package
at Hyatt Regency Bellevue
Includes $100 Bellevue Collection Gift Card per night, 2 p.m. late check out, premium WIFI & valet parking daily for one vehicle.
Call (425) 462-1234 and
mention rate plan SHPBEL
Book Now
The Westin Bellevue
The Westin Bellevue
The Westin Bellevue, located in Lincoln Square, is your ideal haven for renewal and relaxation.
Bellevue Shop & Stay
at The Westin Bellevue
Includes a $100 Bellevue Collection Gift Card per night, premium in-room WIFI & 2 p.m. late checkout.
Call (800) 228-9290 and
mention rate plan SHO
Book Now
W Bellevue
W Bellevue
Where green meets global glamour. Where rugged and relaxed are reimagined and redefined. Inspired by yesterday's weekender lake house, W Bellevue is a modern and chic downtown Bellevue hotel for seekers of the bold and beautiful.
W Bellevue's Shop & Splurge Package
Includes a $100 Bellevue Collection Gift Card per night, premium in-room WIFI & 2 p.m. late checkout.
Call (800) 228-9290 and
mention rate plan SHO
Book Now