Independent Designer Showcase: Gustave Apiti
September 21, 2020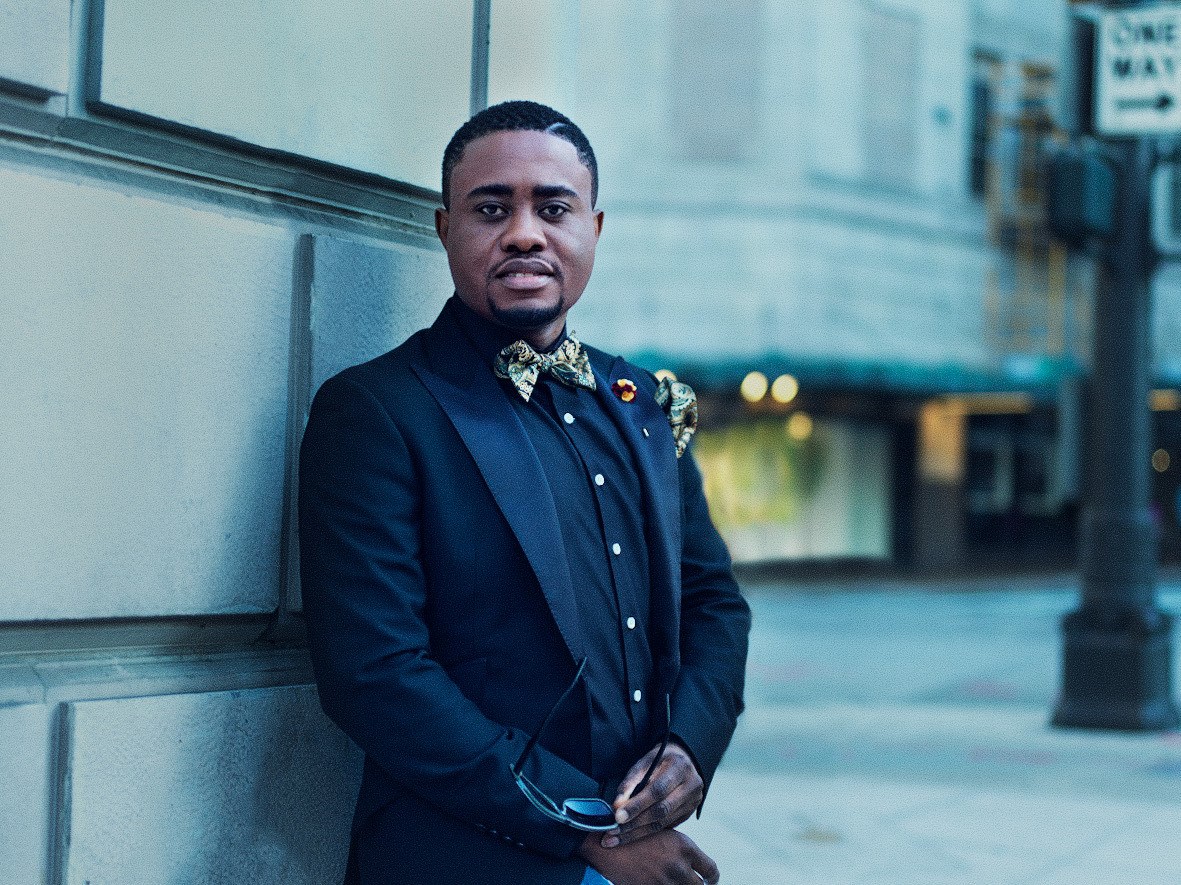 "In my culture, when you dress up and go out, someone has to notice you. Not just your suit, but your shoes and even your hairstyle."

Growing up in the Democratic Republic of the Congo, designer Gustave Apiti harnessed his fashion talents early by closely observing his mother and older sister who operated a seamstress business in their community. Once, when they were particularly busy, his mother asked if he could help work on some of the garments. Gustave got to work, and his family was shocked to see he already knew what to do. "My sister didn't want to teach me, but I would pay attention while she worked," he says. "My mom was so surprised to see that I could make the garments that, from then on, I helped make patterns, cut fabric, and get pieces ready to be finished." Later, when his sister moved to Angola, he took over the family business while still in his teens. With all this experience already under his belt, Gustave then moved to South Africa to study fashion design at university, going on to work with some of the country's top designers and dress its most famous celebrities.
When he came to America it was with the goal of expanding his business and honing his craft. He's known for meticulous tailoring and strong attention to detail in the formal wear he creates for both men and women. And he isn't afraid of being a little loud. "In my culture, when you dress up and go out, someone has to notice you. Not just your suit, but your shoes and even your hairstyle. There's always something special that differentiates you from other people," he says. That African heritage shows up in his use of strong colors and playful patterns.
For Gustave, being fashion forward means bringing something new to the industry, even if that means putting a spin on a classic. Most recently, as more and more people began wearing face coverings, he realized that there was room for a more fashionable mask. "I'm someone who likes to be flashy. I like to be noticed. But when I was looking around, I saw that most of the masks out there were very simple," he says. "In my culture, we like having unique and special stuff, so I wanted to make a mask that was different and would stand out." So, he created a line of masks with sequins, embroidery, leather elements, appliques, and eyelets. He calls them the "level up" masks, and their flamboyance is exactly what you'd expect from Gustave. It's equally as important for him to give back: a portion of mask proceeds are donated to charity, and he has given hundreds of surgical masks to local hospitals.
His ultimate goal is to be an international brand sold in high-end retailers like Nordstrom and Neiman Marcus, but he recognizes that being a renowned designer doesn't just take sewing skills. Currently, he's working on an MBA from Washington State University in order to invest in his business acumen. "It's something that will set me apart from other designers, for sure," he says. "I can't wait to keep building a brand not only based on the quality of my work, but also on my understanding of the fashion world at large."