Lunar New Year Gift Picks
January 28, 2021
Bring good fortune into the New Year with gifts inspired by your Chinese Zodiac animal.  Find something for everyone with these gifts that are a perfect match for them all from The Bellevue Collection!
Year of the Ox
Years: 1913, 1925, 1937, 1949, 1961, 1973, 1985, 1997, 2009, 2021
Key traits: dependable, headstrong, patient, keeps to a routine, diligent, procedural, reliable
You are patient and reliable. Usually quiet, you can be a good speaker. You hate to fail so you are often very successful. You are set in your ways but have a quick mind and strong body. You get along best with Year of the Snake, Rat or Rooster people and worst with Year of the Sheep people.
Gift picks:
Let this project do all the thinking as they follow the steps to create a scene from The Mandalorian with this set from LEGO. 
Gift your reliable friend a jacket that is as reliable as they are, like the Metropolis Parka from The North Face.
Elevate their daily beauty routine with a Dyson Supersonic Hair Dryer from Sephora. This gift is sure to blow them away.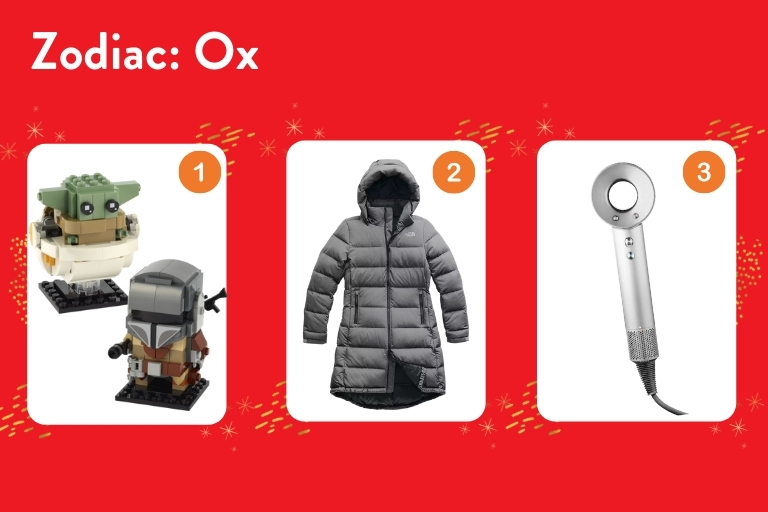 1. LEGO 2. The North Face 3. Sephora
Year of the Rat
Years: 1912, 1924, 1936, 1948, 1960, 1972, 1984, 1996, 2008, 2020
Key traits: driven, goal setter, quick-witted, resourceful, smart
Rats live a driven life that is focused on bettering themselves and expanding their knowledge. Rats love to set big goals and work their tails off to achieve them.
Gift picks:
Give them a place to jot down their goals and stay on track with a Boss Lady journal from Paper Source that will keep them motivated wherever they go.
After a day's hard work give them a night well rested with a Hatch Restore Reading Light and Sound Machine from Nordstrom.
Keep them resourceful on the go with a Kindle Paperwhite from the Amazon Book Store.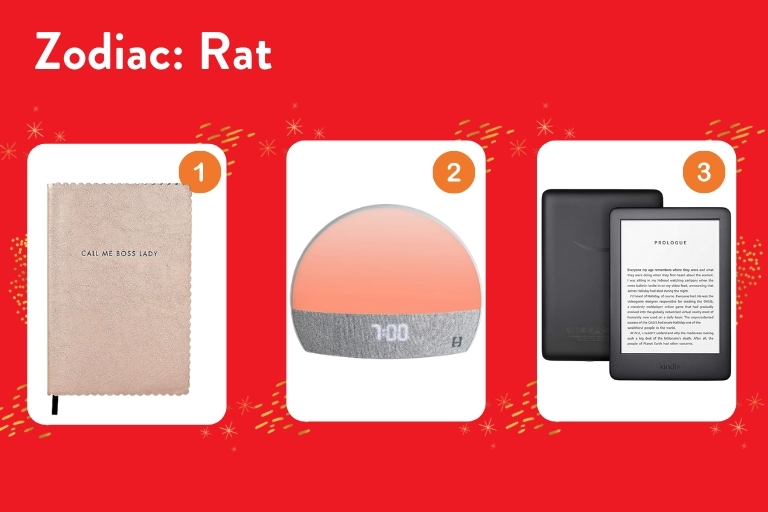 1. Paper Source 2. Nordstrom 3. Amazon Books
Year of the Tiger
Years: 1914, 1926, 1938, 1950, 1962, 1974, 1986, 1998, 2010, 2022
Key traits: deep-thinker, caring, headstrong, thoughtful, natural leader, independent, brave
Tigers spend a lot of time deep in thought and learning new things. Tigers are also incredibly caring and thoughtful friends who has a strong group of BFF's.
Gift picks:
Keep their thinking cap as sharp as can be with an AI Chess set from Trueform.
A gift for them and a gift for you! A Friendship Bracelet from Kendra Scott is a must for any BFF.
Give a gift that is personal and thoughtful with a Monogrammed Candle from Anthropologie.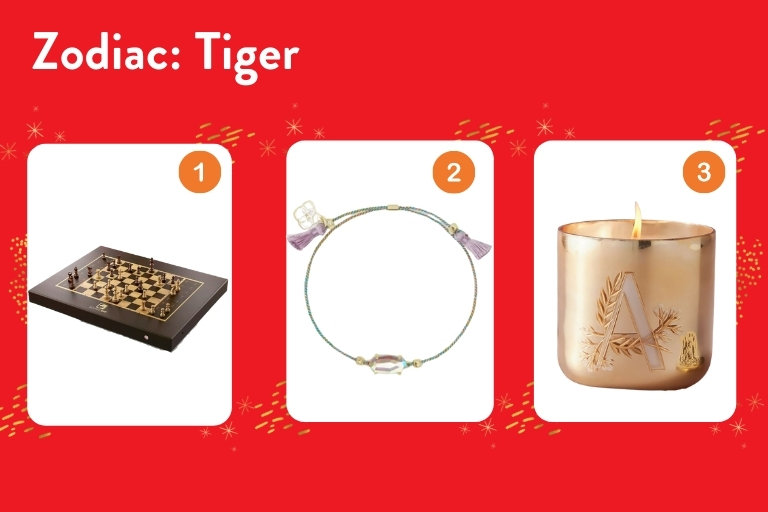 1. Trueform 2. Kendra Scott 3. Anthropologie
Year of the Rabbit
Years: 1915, 1927, 1939, 1951, 1963, 1975, 1987, 1999, 2011, 2023
Key traits: quiet, calm, creative, considerate, home-body
Rabbits love to enjoy the cozy things in life and love a good night-in. At home is the perfect place for them to unwind and get creative.
For a cozy night in, give them a spot to lounge all night with a Sac from Love Sac.
Let them get creative without all the mess, Fireworks Gallery has Paint by Sticker: Cats. Bonus points if they are also a cat lover!
Whether they are in the mood for a mediation sesh or a good Netflix binge, this blanket will keep them cozy regardless of the activity. Pick the perfect color of the Faux Fur Blanket from Anthropolgie.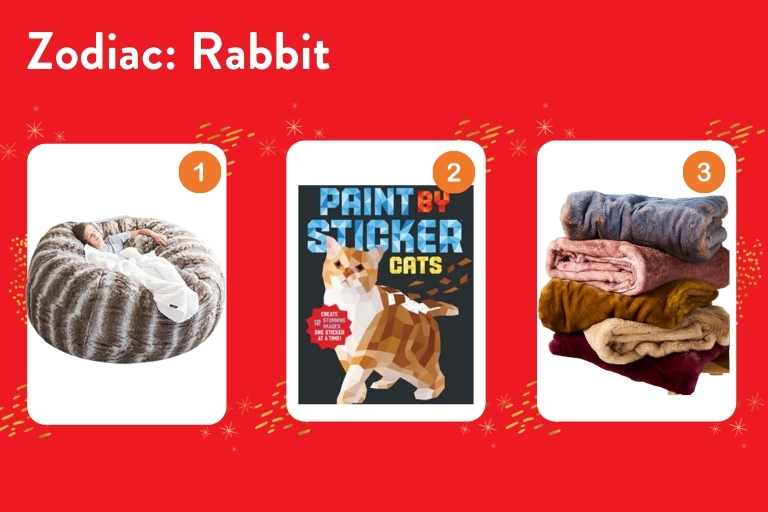 1. LoveSac 2. Fireworks 3. Anthropologie
Year of the Dragon
Years: 1916, 1928, 1940, 1952, 1964, 1976, 1988, 2000, 2012, 2024
Key traits: leader, trustworthy, high-energy, motivated, ambitious, resourceful, talented
This natural leader has lots of ambition and is born to take risks. Behind their high-energy is a gentle and caring heart that is often encouraging others.
Gift picks:
Let them take a risk on their next adventure and explore the world with a Patagonia Chacabuco Pack from Escape Outdoors.
Fire up this Dragons energy with sweet and salty treat of Potato Chip Chocolate from Royce Chocolate.
Leaders are all about time management with their new favorite accessory, a Tudor Chrono Blue Watch from Ben Bridge.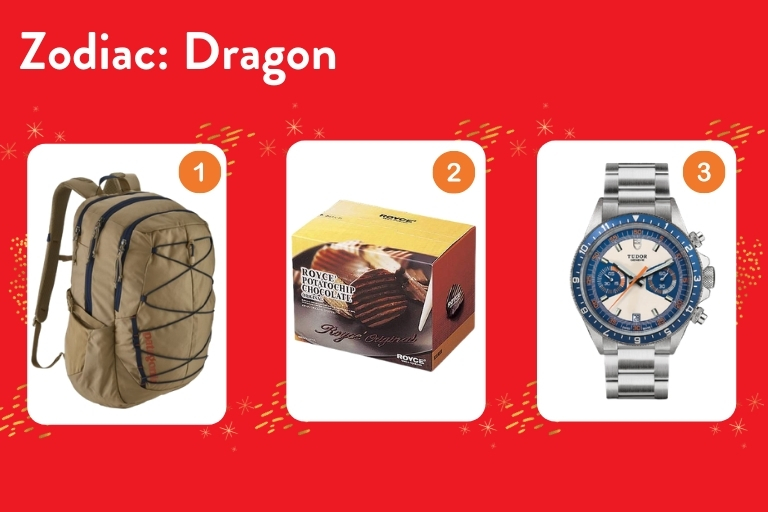 1. Escape Outdoors 2. Royce Chocolate 3. Ben Bridge Jeweler
Year of the Snake
Years: 1917, 1929, 1941, 1953, 1965, 1977, 1989, 2001, 2013, 2025
Key traits: knowledgeable, creative, independent, optimistic
The snake is a self-starter who loves to expand their knowledge and get creative. Their charming personality and positive vibes always inspire you.
Gift picks:
Give them a self-help book full of tips to keep their brain sharp and strong with Build a Better Brain by Sanjay Gupta from Amazon Books.
These Trekz Titanium Wireless Headphones from Fireworks are perfect to keep their hands free and get their creativity on.
Help them channel happy and positive energy this New Year with the Coach Lunar New Year Square Bag 10 In Signature Canvas designed in a vibrant red hue.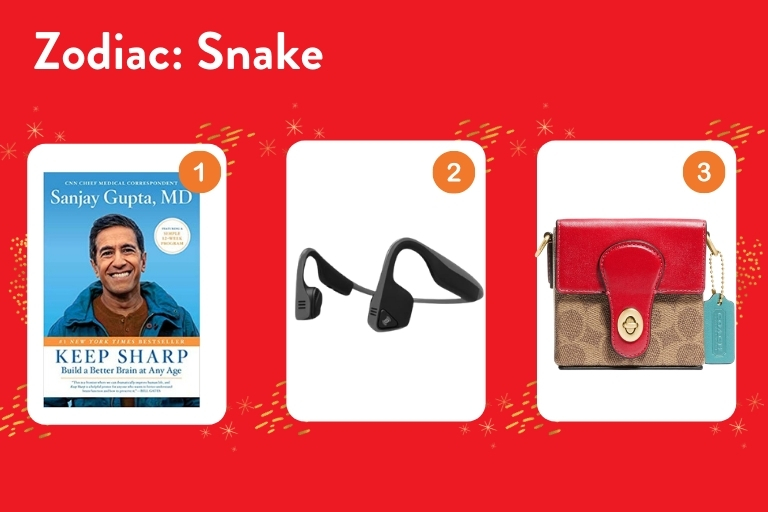 1. Amazon Books 2. Fireworks 3. Coach
Year of the Horse
Years: 1918, 1930, 1942, 1954, 1966, 1978, 1990, 2002, 2014, 2026
Key traits: people person, positive, energetic, well spoken
Horses live a life that is full energy and positivity. Their energy draws you in and makes you want to join them on life adventures.
Gift picks:
Their perfect life motto on a mug: 'Let That Sh** Go' from Fireworks.
All that energy comes from somewhere – let them rest easy with good night of zzzz from Deep Sleep Bath Bomb from LUSH.
Weekend getaways never seemed so right for this adventurer to reignite their excitement for traveling with this perfect Weekender Bag from TUMI.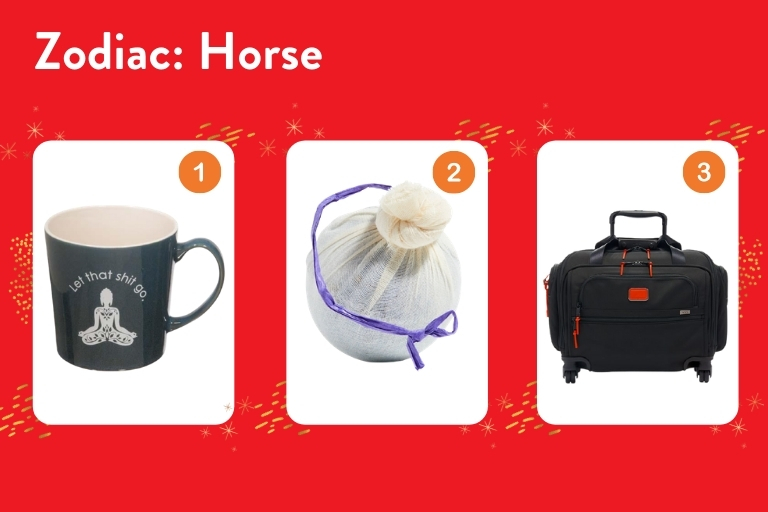 1. Fireworks 2. LUSH 3. TUMI
Year of the Sheep
Years: 1919, 1931, 1943, 1955, 1967, 1979, 1991, 2003, 2015, 2027
Key traits: creative, helpful, detail oriented, easy going, positive
Sheep live an easy-going lifestyle; they are the friend who is always up for whatever! They enjoy making time to be creative and have a natural talent for it too!
Gift picks:
Give them the gift of a new creative skill! Pick up "Pretty Simple Lettering: Modern Calligraphy & Handlettering for Beginners" from Amazon Books.
Help them stay calm, cool, and collected in their space with an Aroma Diffuser and the Meditate Oil Blend from Saje Wellness.
Help them capture every moment in a creative way with the Leica D-Lux 7 from Leica Bellevue.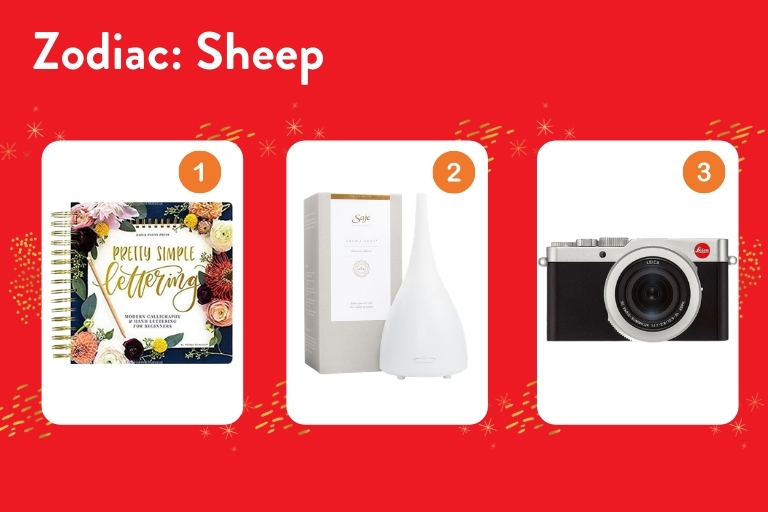 1. Amazon Books 2. Saje Wellness 3. Leica Bellevue
Year of the Monkey
Years: 1920, 1932, 1944, 1956, 1968, 1980, 1992, 2004, 2016, 2028
Key traits: curious, sociable, energetic, competitive
The Monkey is clever and talented. This sociable friend gets everyone excited about anything and is always up for a good time!
Gift picks:
Upgrade their next dinner party with cocktails glasses that everyone will talk about, like these Calder Cocktail Glasses from Crate and Barrel.
Keep your social butterfly in the loop with their friends at-home virtually via Facetime with an iPad Air from Apple.
Stir their competitive spirit with Name That Emoticon game from Fuego.
1. Crate and Barrel 2. Apple 3. Fuego
Year of the Rooster
Years: 1921, 1933, 1945, 1957, 1969, 1981, 1993, 2005, 2017, 2029
Key traits: loyal, honest, hardworking, motivated
Roosters lead an exciting life that is full of passion and hard work with their busy bee lifestyle. While they like to keep themselves busy, they cherish close and loyal friendships.
Gift picks:
Keep their competitive personality fueled with Peloton Bike Plus+ and a little self-care to offset their full schedule.
Add in a some zen vibes with the Relaxation Room, Calming Diffuser Blend from Saje Wellness the perfect way for this active and on the go personality to rest.
Show you cherish their friendship too with a Tiffany & Co. 1837 Interlocking Bracelet.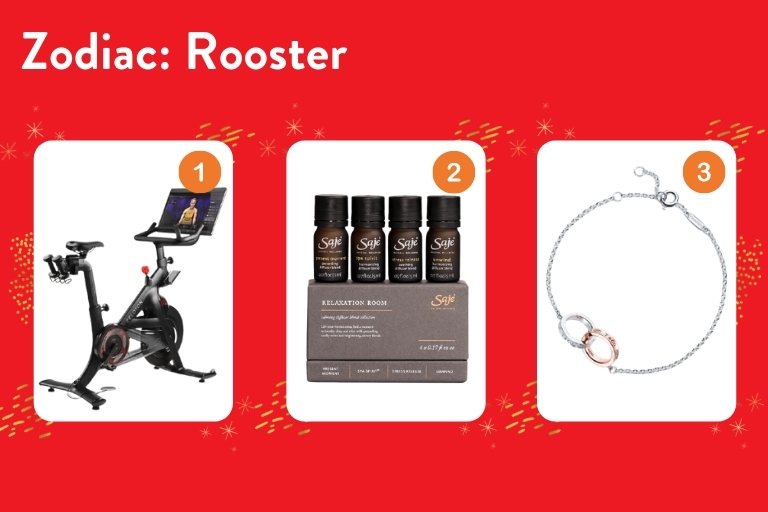 1. Peloton 2. Saje Wellness 3. Tiffany & Co
Year of the Dog
Years: 1922, 1934, 1946, 1958, 1970, 1982, 1994, 2006, 2018, 2030
Key traits: reliable, leader, easy-going, simple
The Dog likes to keep it simple and is easy-going no matter the circumstance. They are a reliable friend that you can always count on even in the most chaotic times.
Gift picks:
Treat this easy-going soul to a New Year themed bubble bath with this Bubble Bar from LUSH.
Keep it simple with an always delicious macaroon (or a few) from Lady Yum.
Gift them a reliable basic they will love! A Fluffy Yarn Fleece Zip-Up from Uniqlo.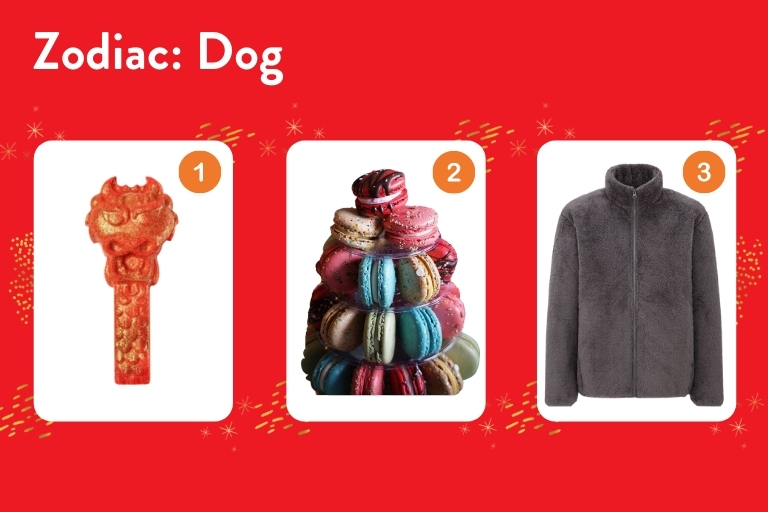 1. LUSH 2. Lady Yum 3. Uniqlo
Year of the Pig
Years: 1923, 1935, 1947, 1959, 1971, 1983, 1995, 2007, 2019, 2031
Key traits: warm hearted, goal setter, quiet, curious, positive, true friend, driven
Don't let this quiet pig fool you, with their big goals and driven personality. They are the selfless and true friend you always wanted.
Gift picks:
Get curious in the kitchen and learn to whip up some delicious meals with recipes from Chrissy Teigen's Cravings: Hungry for More Cookbook from Amazon Books.
Surprise them with a little black bag for every occasion from Ted Baker.
Get them motivated to achieve their fitness goals with a cute new pair of leggings from Fabletics.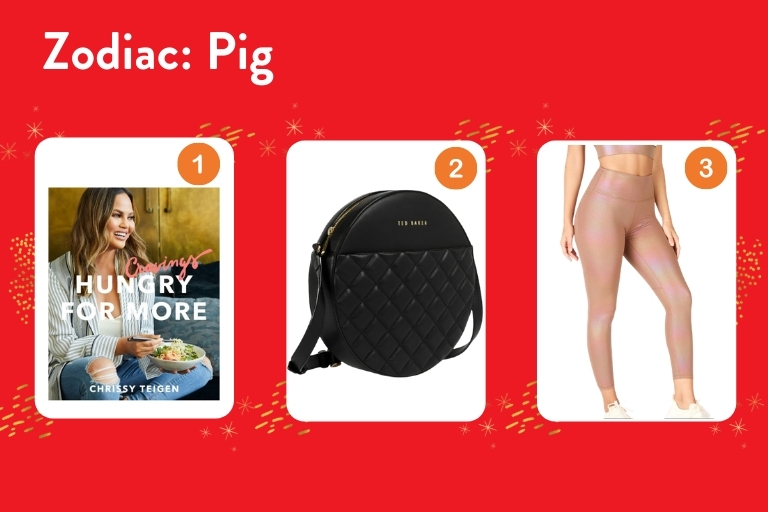 1. Fabletics 2. Amazon Books 3. Ted Baker London