50 Gifts Under $150
December 7, 2021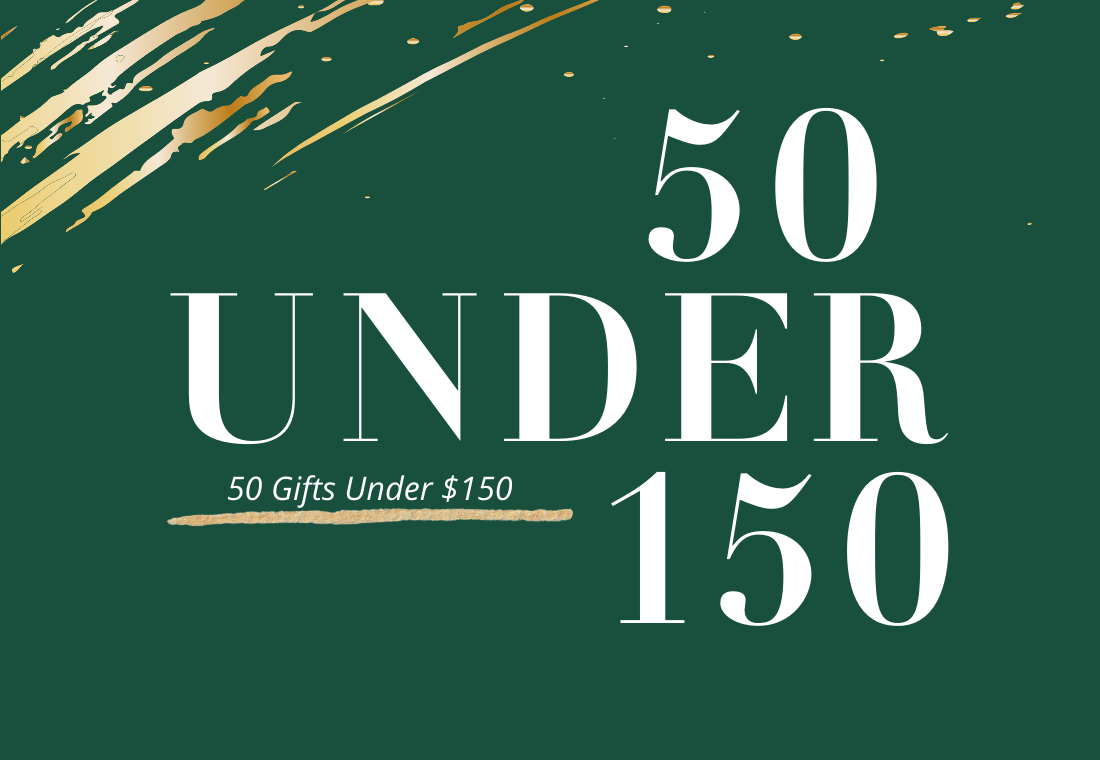 Still in need of that perfect gift? We have curated picks under $150 for "that someone" on your list, whether they be an explorer, a fashionista, a parent of kids or pets, blissful newlyweds, an entertainer, or a die-hard sports fan. Shop these finds for the ultimate gift this holiday season. Please note that items are not guaranteed to be in-stock. See store associate for details.
The Explorer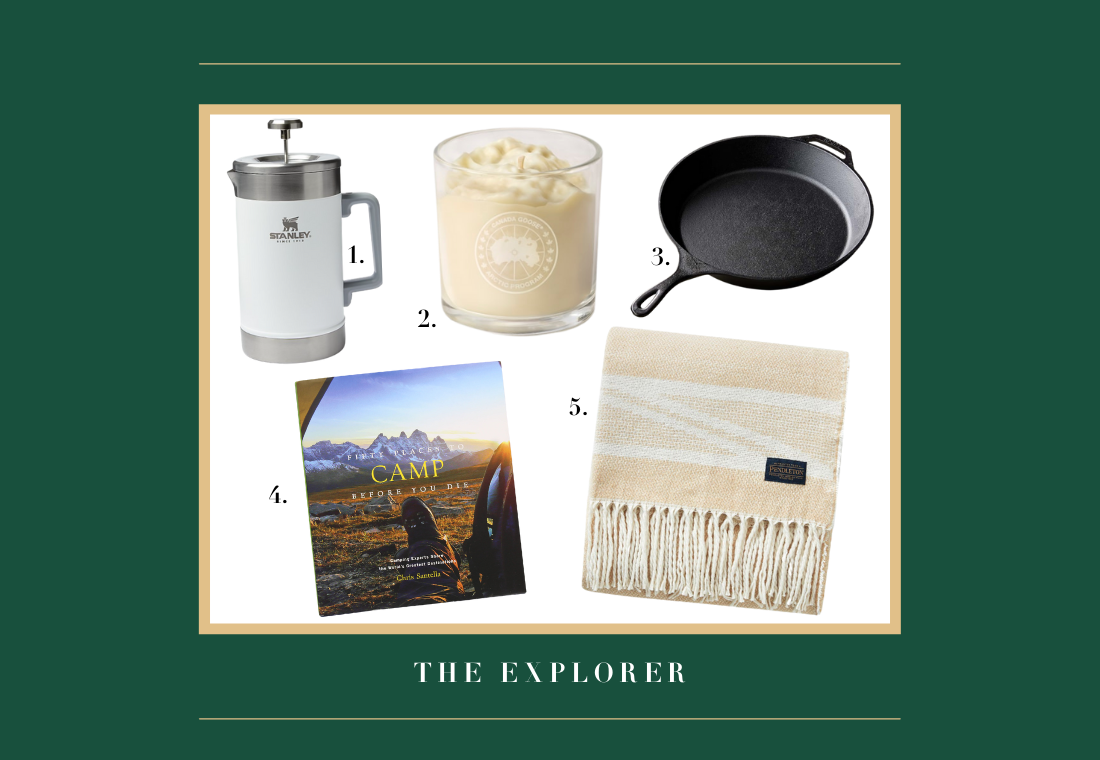 They're always on the go, so they value function over form. Send them off on their next adventure in style with iconic outdoor brands that will stand the test of time.
1. Stanley® French Press – $65, Eddie Bauer
2. The Trail North Candle – $95, Canada Goose
3. Lodge Seasoned Cast Iron Skillet – $74.95, Williams Sonoma
4. Pendleton Rio Canyon Fringe Throw Blanket – $79.50, Nordstrom
5. 'Fifty Places To Camp Before You Die' Book – $24.95, Fireworks Gallery
The Fashionista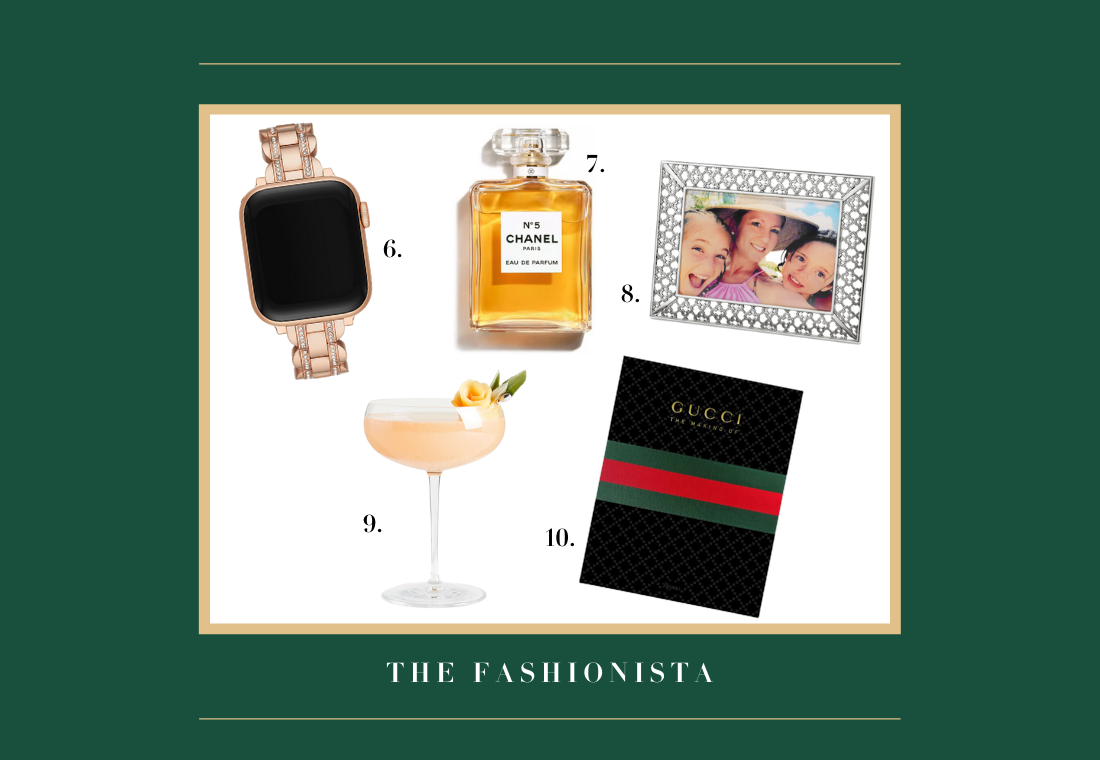 She needs no help looking fabulous, but she'll never say no to a little sparkle. Give her a gift that's as legendary and show-stopping as she is.
6. Rose Gold Pave Scallop Link Apple Watch Band – $148, Kate Spade
7. Chanel No. 5 – $138, Macy's
8. Toledo Frame – $68, Brighton Collectibles
9. Mera Coupe Glass – $79.60 for 8, Crate & Barrel
10. 'Gucci: The Making Of' Coffee Table Book – $100, Pottery Barn
The Newlyweds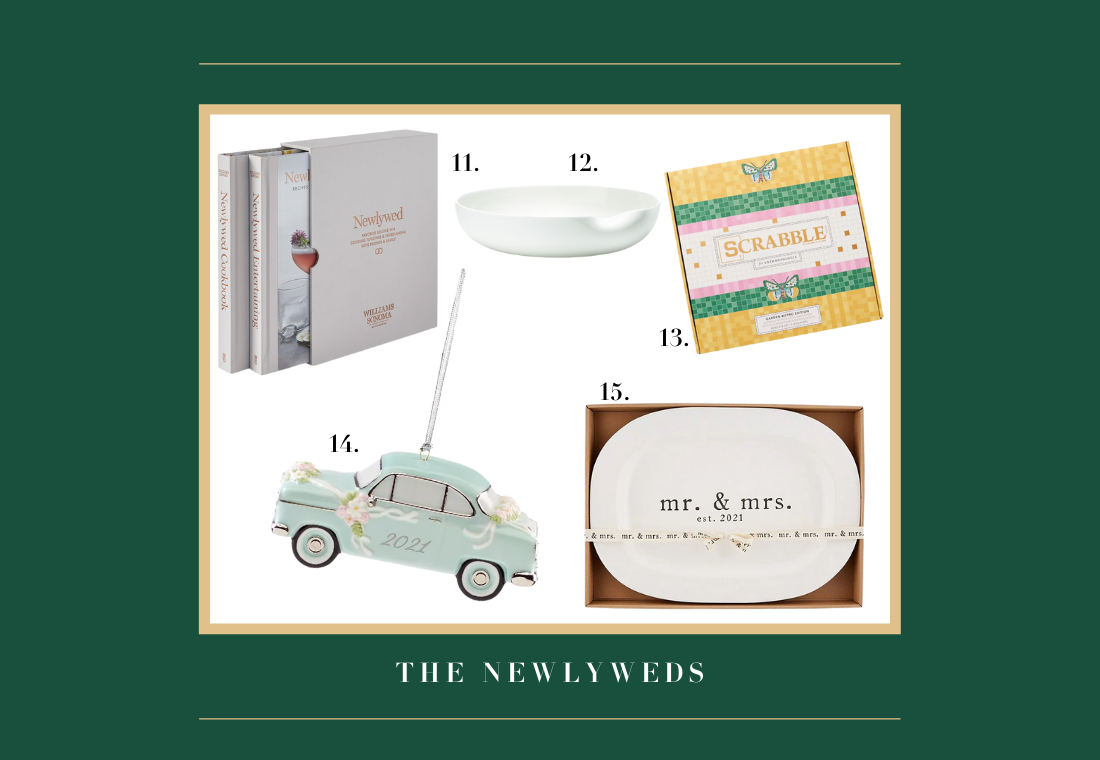 While their marriage is recent, their love is timeless. Make this holiday season memorable with a keepsake they'll treasure for years to come.
11. Newlywed Boxed Set – $79.95, Williams Sonoma
12. Thumbprint Dish – $85, Tiffany & Co.
13. Scrabble For Anthropologie Game – $138, Anthropologie
14. 2021 Just Married Car Ornament – $70.00, Macy's
15. Mr. & Mrs. 2021 Platter – $56.50, Fireworks Gallery
The Entertainer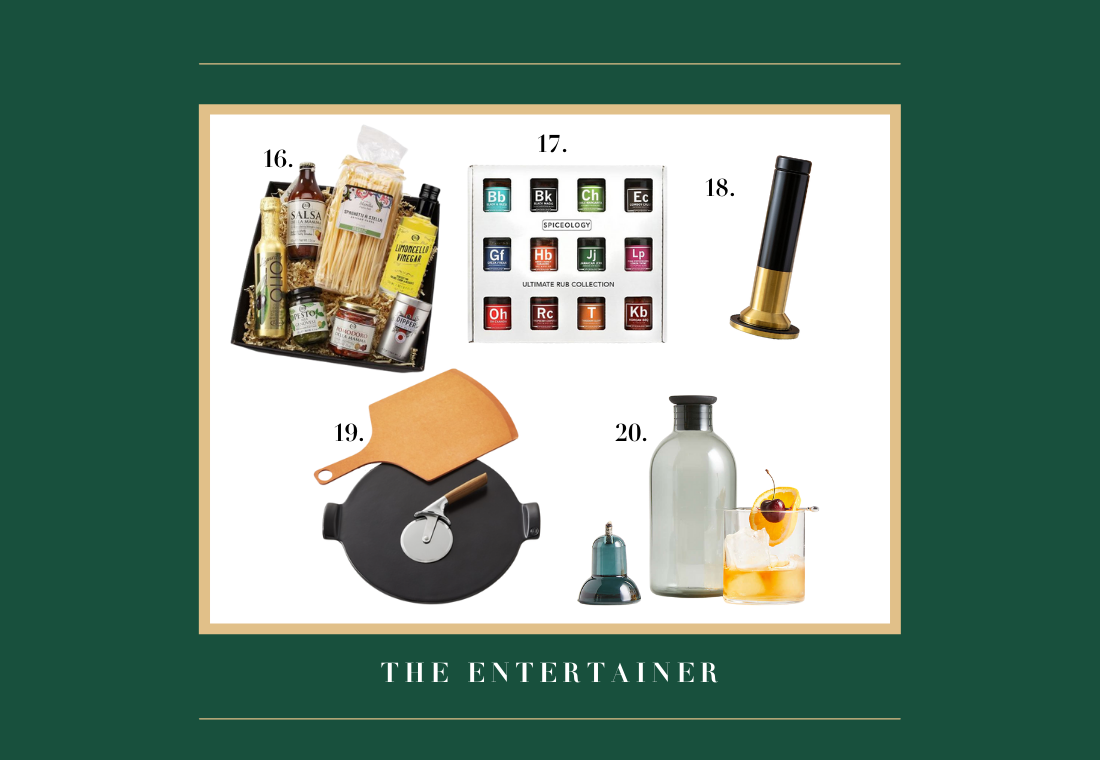 Say "thank you" to the friend who's always happy to host you with a top-shelf gift of taste.
16. Best of Italy Gift Set – $94.95, Oil & Vinegar
17. Spiceology Ultimate Spice Blend & Rub Gift Collection – $60, Made In Washington
18. RBT Electric Corkscrew with Coaster – $125, Pottery Barn
19. Emile Henry French Ceramic Pizza Gift Set – $99.95, Williams Sonoma
20. Cocktail Smoking Kit – $79.99, Crate & Barrel
The Sports Fan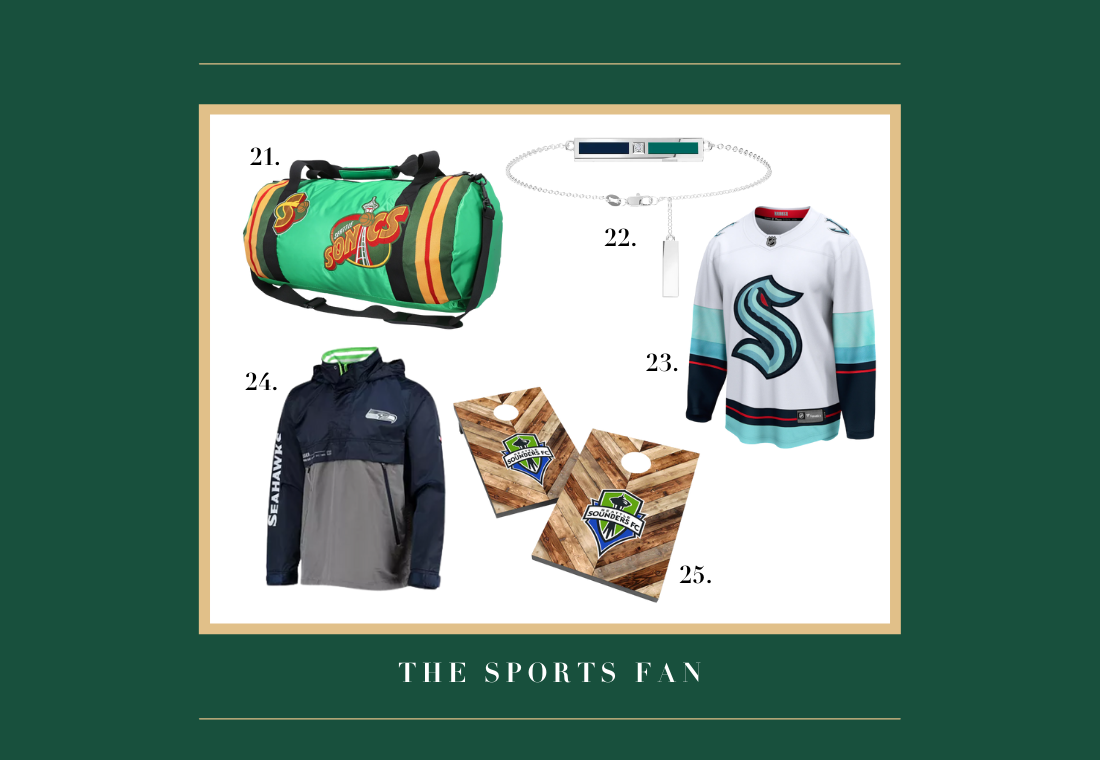 They're no fair-weather fan: this person lives and breathes local sports, rain or shine. This holiday season, give them a gift that celebrates their passion and loyalty.
21. Seattle SuperSonics Satin Duffel Bag – $99.99, Seattle Team Shop
22. Women's Diamond Bar Sterling Silver Bracelet – $143, Seattle Team Shop
23. Seattle Kraken Branded Breakaway Jersey – $129.99, Kraken Store
24. Tommy Hilfiger Seattle Seahawks Anorak – $139.99, Macy's
25. Seattle Sounders FC Cornhole Set – $119.99, Seattle Team Shop
The Zen Friend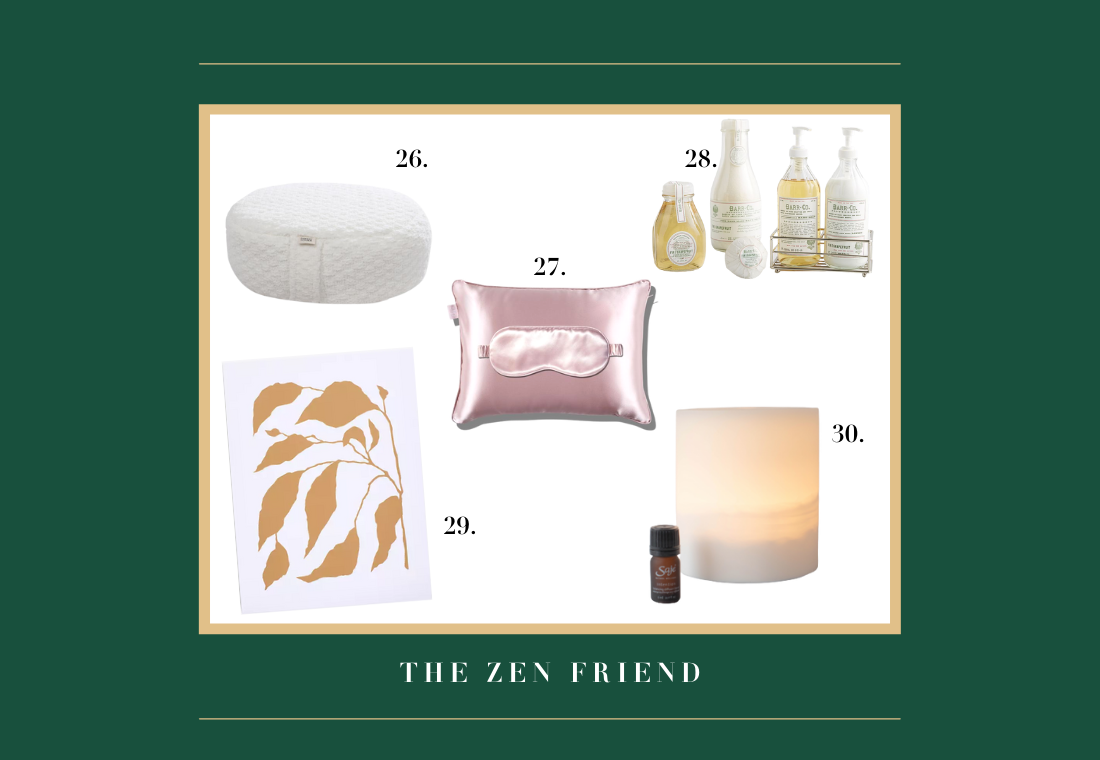 For the friend who speaks in "I feel" statements, knows an essential oil for every occasion, and recommended the last three books that changed your life, give a gift of calm and indulgence.
26. Crystal Meditation Pillow – $85, Nordstrom
27. Slip Silk Beauty Sleep Travel Set – $124, Anthropologie
28. Barr-Co. Fir & Grapefruit Ultimate Spa Set – $144, Pottery Barn
29. A Dapper Line ™ Poplar No. 1 Art Print – $120, Madewell
30. Aroma Glow Kit – $108, Saje
The Pet Parent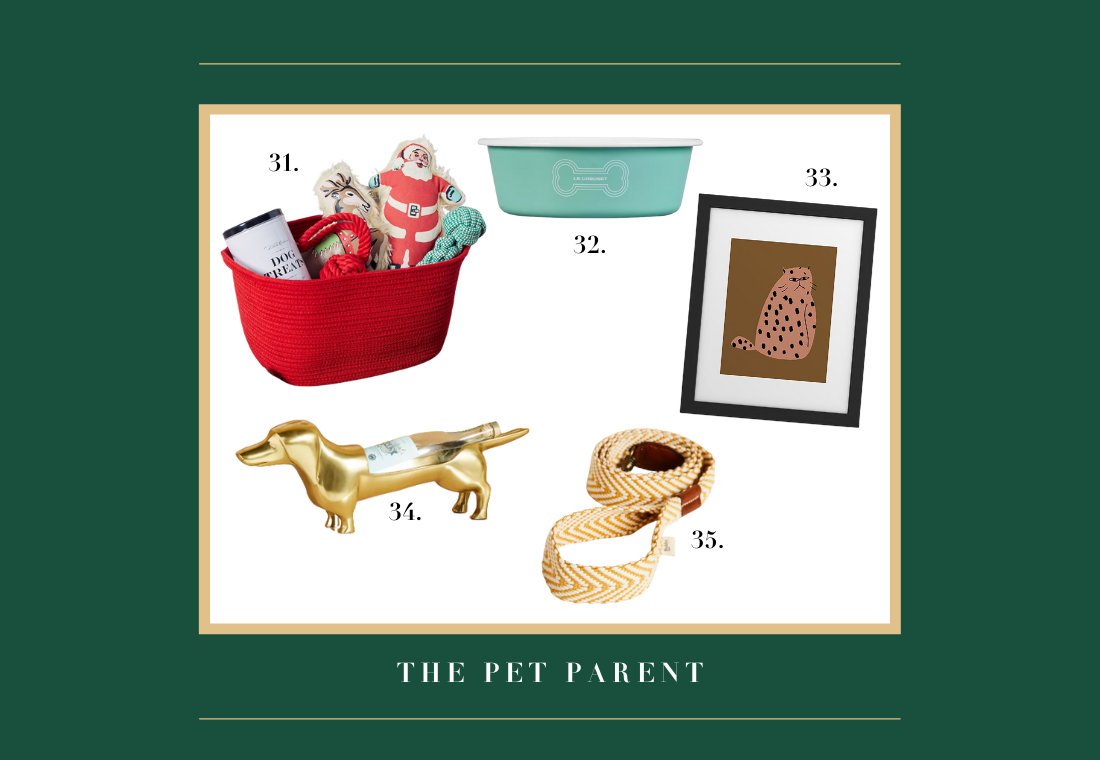 This person works hard to give their fur-baby a better life. Help them out with a gift that will fill them (and their little sidekick) with joy.
31. Harry Barker Night Before Christmas Pet Bundle – $109, Pottery Barn
32. Le Creuset Pet Bowl – $49.99, Macy's
33. Grumpy The Cat Framed Art Print – $99, Nordstrom
34. Dapper Dog Wine Bottle Holder – $118, Anthropologie
35. Buddys Brand Herringbone Lead – $89.90, ZARA
The Reader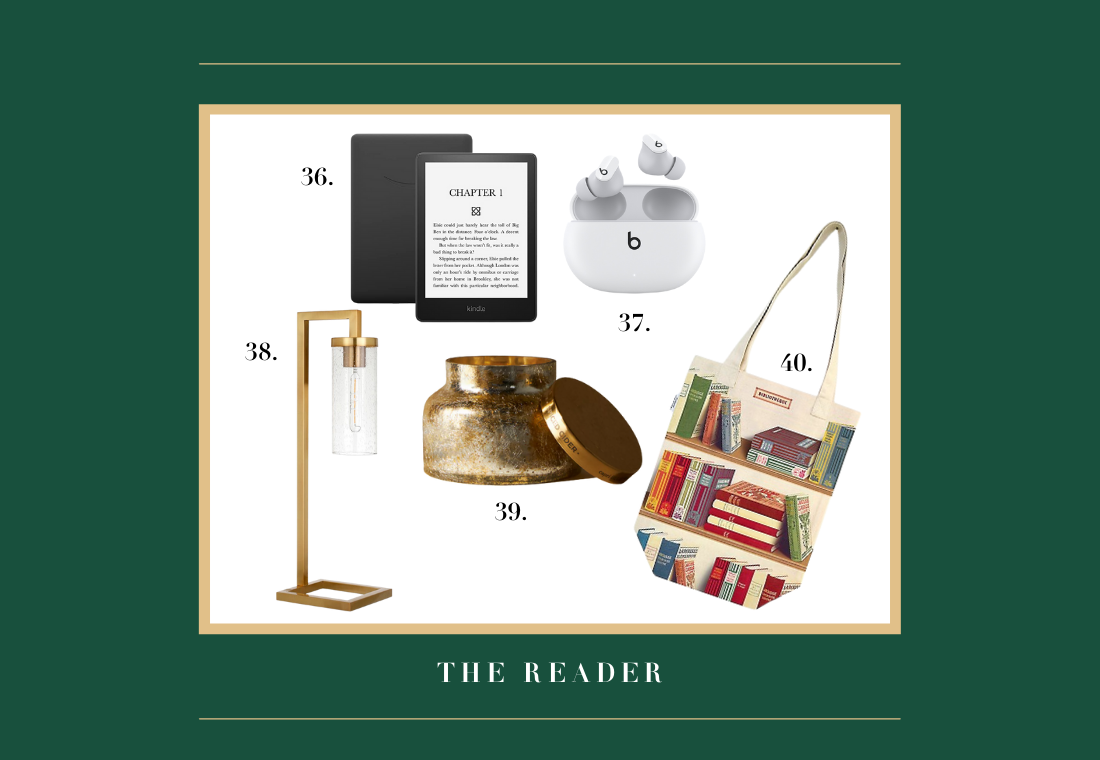 They're happiest with their nose in a book, so make their reading experience the best it can be with gifts that elevate their comfort and allow them to dive in uninterrupted.
36. 8GB Kindle Paperwhite – $139.99, Amazon Books
37. Beats Studio Noise-Canceling Earbuds – $149.99, Apple Store
38. Malva Brass Table Lamp with Seeded Glass Shade – $112.97, Nordstrom Rack
39. Capri Blue Spiced Cider Giant Glass Jar Candle – $98, Anthropologie
40. Library Books Tote Bag – $18.95, Paper Source
Mom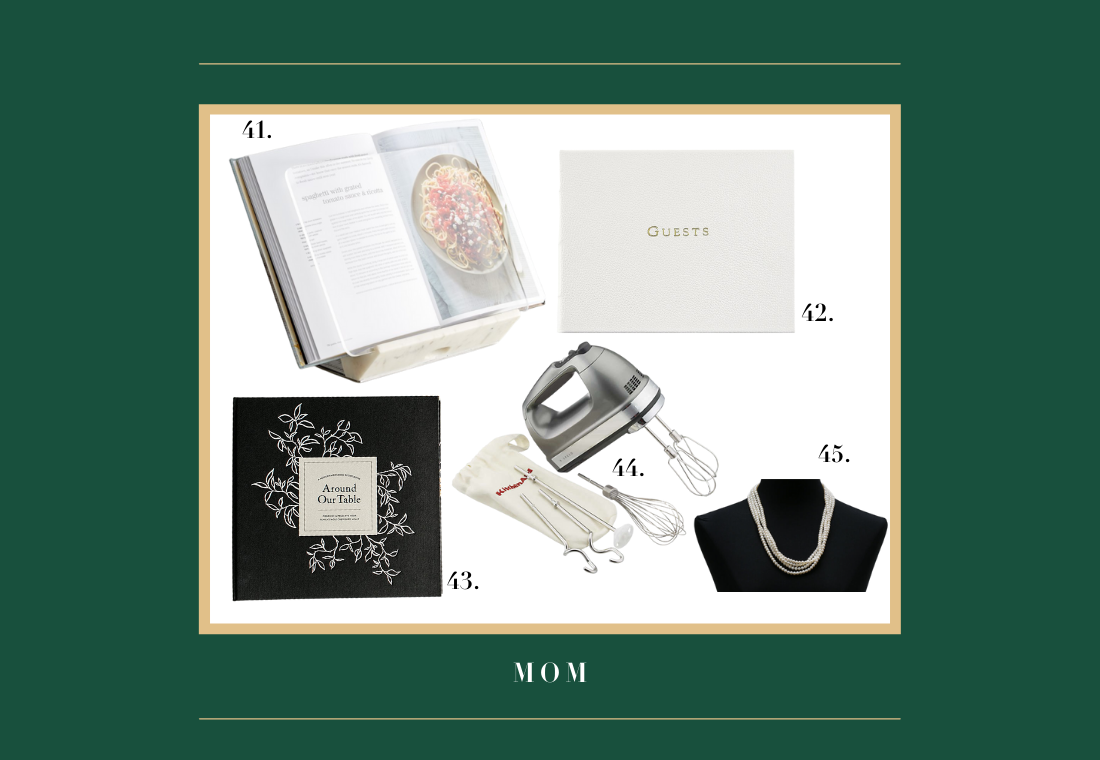 She taught you never to show up to a party empty-handed. Remind her how much she means to you with a gift she can treasure for years to come.
41. Marble Cookbook Stand – $99.95, Williams Sonoma
42. Leather Guest Book – $129, Pottery Barn
43. 'Around Our Table' Family Recipe Journal – $31.46, Amazon Books
44. KitchenAid® Silver 9-Speed Contour Hand Mixer – $99.95, Crate & Barrel
45. Endless Freshwater Cultured Pearl Strand – $99, Ben Bridge
Dad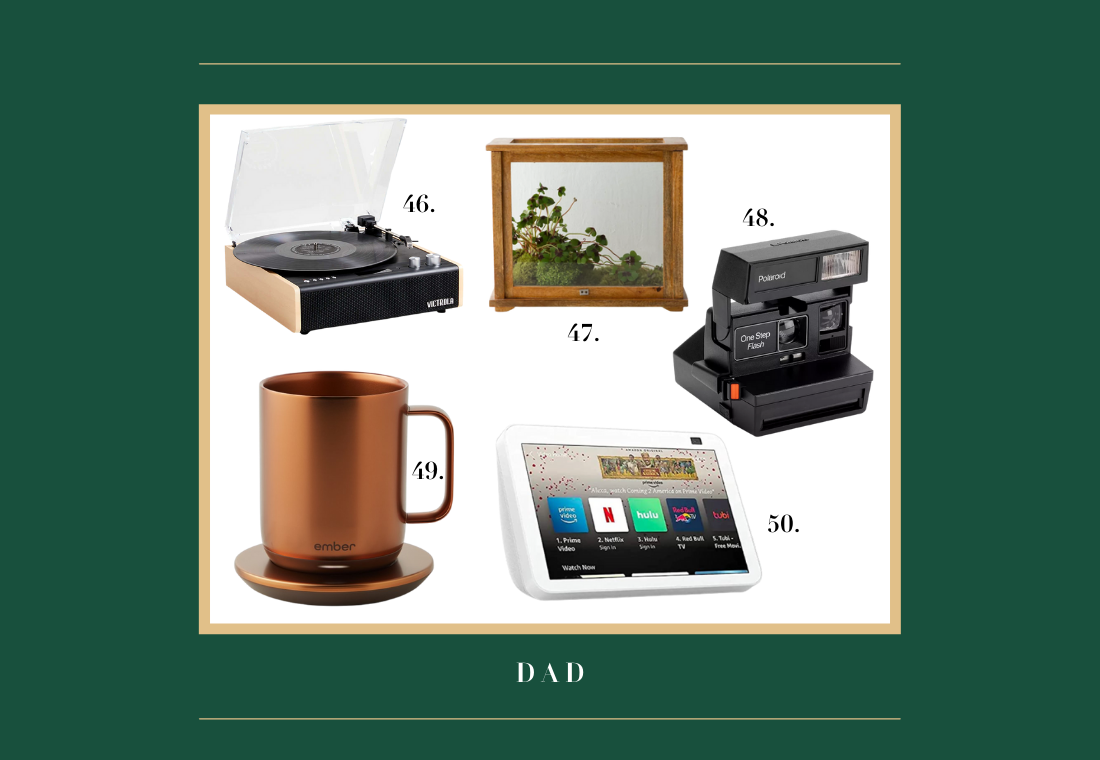 His clothes, home and Instagram feed are a mix of nostalgia and cutting-edge tech. Get him something he'll proudly display at home with unique picks from The Collection.
46. Victrola Eastwood Record Player – 99.99, Crate & Barrel
47. Specimen Case Terrarium – $148, Anthropologie
48. Retrospekt® Polaroid 600 One-Step Flash Instant Film Camera – $139, Madewell
49. Ember Temperature-Controlled Mug – $129, Williams Sonoma
50. Echo Show 8 – $129.99, Amazon Books