Wellness Wednesday: Healthy Picks From The Dining District
February 23, 2022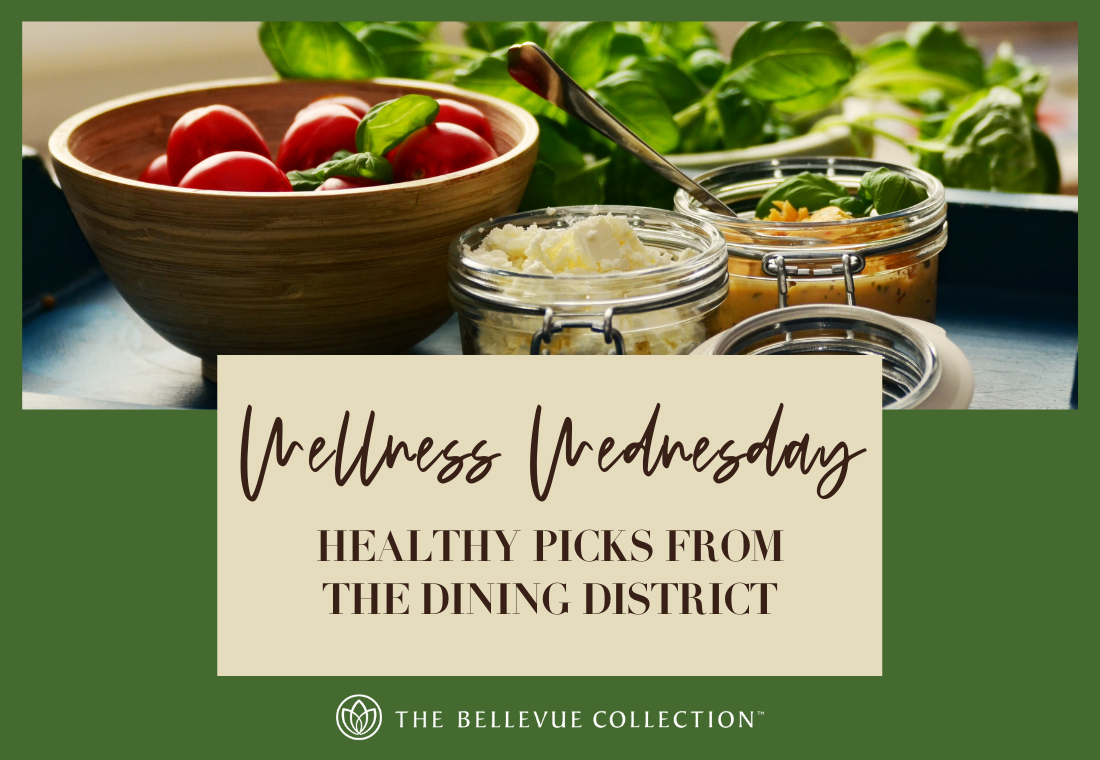 The Bellevue Collection's Dining District is known for juicy steaks, scrumptious seafood, and delectable desserts from a broad selection of world-class restaurants. Among these indulgent choices are a variety of healthy dishes that can help you continue to eat well without compromising the fun of treating yourself. Here are a few delicious dishes to try.
Ascend Prime Steak & Sushi: Spicy Citrus Avocado Roll or King Salmon Ceviche Roll
If you're craving Ascend's famous sushi, their chefs offer health-conscious options low in calories and high in flavor. The Spicy Citrus Avocado Roll is vegan and gluten-free, made with English cucumber, papaya, and spicy miso. The King Salmon Ceviche Roll combines prime cuts of King Salmon, cilantro, onion, Asian pear, tomato, avocado, and ume vinaigrette for a light and delicious sushi experience.
Pairs well with: The vodka-based Citric Monk or the spirit-free Adore mocktail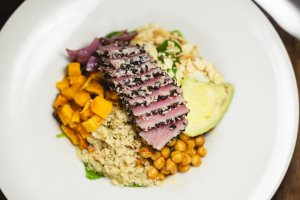 Central Bar + Restaurant: Buddha Bowl
Central is famous for its Buddha Bowl, which includes spinach, quinoa, avocado, cumin, garbanzo beans, toasted almonds, balsamic roasted red onion, butternut squash and honey cilantro vinaigrette dressing. While the delicious and filling Buddha Bowl is naturally vegetarian, you can add chicken, steak, ahi tuna or salmon.
Pairs well with: The gin-based Hibiscus Lemon Fizz or the spirit-free Raspberry No-jito
Daniel's Broiler: Penne Bolognese
A restaurant famous for steak and potatoes, Daniel's Broiler offers a few surprises in the form of a plant-based menu. Their plant-based penne Bolognese, a typically hearty, cheesy, and heavy dish, is made instead with soy protein, almond ricotta, and basil chiffonade.
Pairs well with: A California pinot noir from Daniel's extensive wine list
Duke's Seafood: Vegan Veggie Stew
Duke's Vegan Veggie Stew pairs a roasted tomato broth with sauteed vegetables, caramelized onions and peppers, organic baby red potatoes, garlic, and organic herbs. With its variety of natural ingredients and Duke's commitment to rich and flavorful cooking, the Vegan Veggie Stew (which is also gluten-free) is both hearty and wholesome.
Pairs well with: A full-bodied red from Duke's broad selection of boutique Washington wines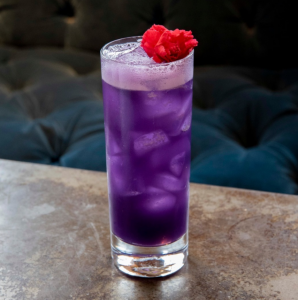 Earl's Restaurant:  Mother Earth Bowl
While it appears on the salad menu, the Mother Earth Bowl eats more like an entrée. Roasted yams and cauliflower, quinoa almond crumble and broccoli pesto ground the dish served on a bed of mixed greens and romaine lettuce with a balsamic dressing. You can choose to include white cheddar and a choice of protein (chicken, salmon, or grilled garlic jumbo shrimp), or enjoy the vegan option instead.
Pairs well with: A superfood-rich Ultraviolet Lychee Cocktail or the spirit-free Remedy mocktail
The Lakehouse: Roasted Cauliflower
The Lakehouse's emphasis on fresh, farm-to-table dining makes their roasted cauliflower an easy choice. It is seasoned with tangy gochujang barbecue sauce and served with sauteed kale and sweet and sour onions over ancient grains for a full-flavored experience.
Pairs well with: A California cabernet from The Lakehouse's wine list or the spirit-free Cucumber Ginger Muddle
STK: Miso Glazed Chilean Sea Bass
High in protein and vitamins, STK pairs the already-nutritious Chilean Sea Bass with miso glaze, ginger, crispy shallots, Thai basil and sauteed bok choy. Add a side of market vegetables from the a la carte menu for a delicious double-dose of greens.
Pairs well with: A light, dry white wine from STK's extensive cellar
Do you have a favorite healthy pick from our Dining District? Tweet at us @BelleCollection and let us know!