Refresh Your Welcome: A Wreath Tutorial with Monica Hart
May 11, 2022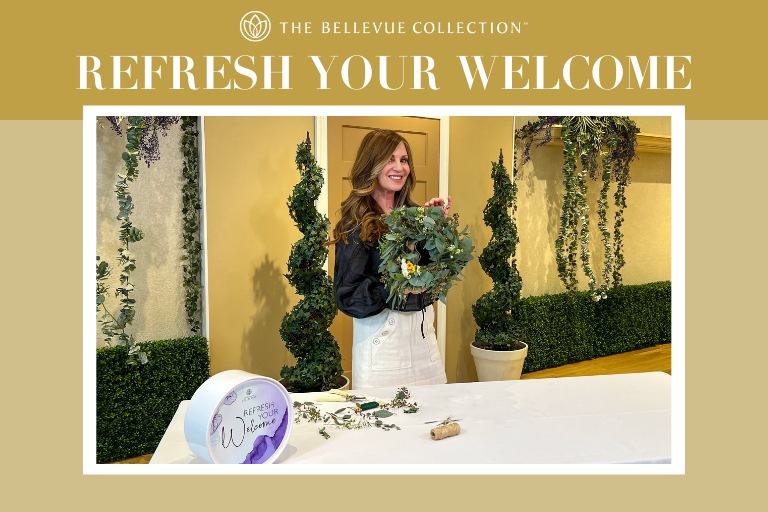 Join lifestyle expert Monica Hart as she teaches you to build a wreath to refresh your home's entry for spring.
What You'll Need:
Fresh greenery for the base (Monica uses feather eucalyptus and seeded eucalyptus)
Fresh flowers as an accent (Monica uses wax flowers and mini mums)
1 wire wreath frame (Monica uses an 8" frame)
1 spool twine
1 paddle floral wire
Pruning shears
Instructions:
Gather your first small bundle of greens, three to four varieties for a bundle about eight inches long. Take your twine and wrap it around the stems about five times, leaving a tail of spare twine. Do the same with the floral wire, also leaving a tail. Do not cut the twine or wire.
Gather a second bundle of greens. Begin working in a few sprigs of florals as a visual accent.
Lay the second bundle down along the stems of the first, leaving about two inches of space between. Wrap twine and floral wire around the stems, linking the two together. Again, do not cut the twine or wire until the wreath is complete.
Continue this process, leaving two inches between each bundle. You will see a garland forming. Lay your progress along the wreath frame to gauge your progress – when the garland can be laid comfortably in a circle across the whole frame, it's time to attach.
Lay your garland on the wreath frame and tuck the end underneath the beginning, creating a seamless circle and concealing the twine and wire. Secure the garland to the frame with floral wire before tying off and clipping. Tuck in a few mini mums at the end for a pop of color.
A tip from Monica:
It's important to hang your wreath soon after it's made so you can get the most life out of the fresh greenery. If you are making the wreath a day or two ahead of time, keep it in the crisper section of your refrigerator to keep it vibrant until you're ready to hang.
For more spring home inspiration, visit The Bellevue Collection.