Fashion Week's Greatest Hits
August 2, 2023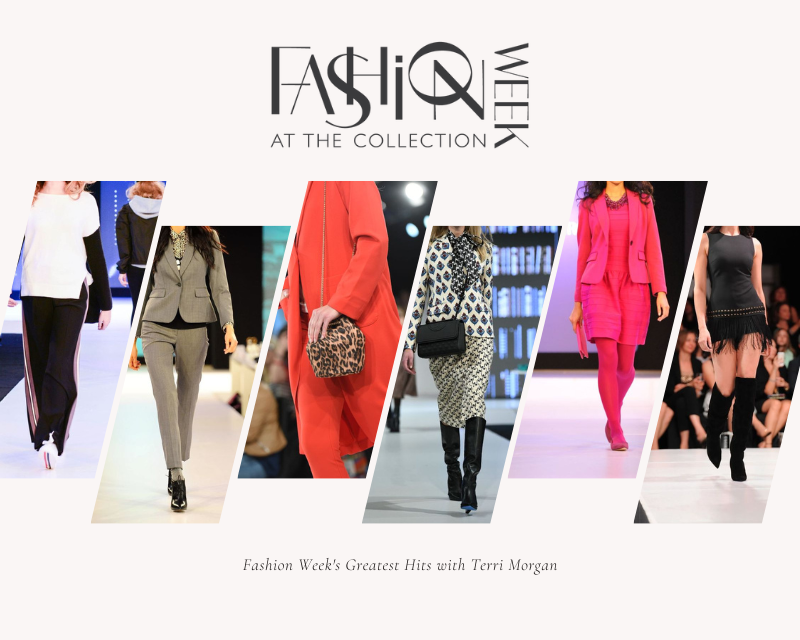 Fashion Week at The Bellevue Collection has been a Pacific Northwest institution for nearly two decades. It's a runway show that influences the region's most stylish shoppers, and nobody knows the evolution of style here in Bellevue like fashion producer Terri Morgan. We asked Terri to look back over her time producing Fashion Week at The Bellevue Collection and choose her Greatest Hits.
"Having done Fashion Week for the past 17 years and working with The Bellevue Collection even longer, it's really hard to pick my favorites," says Terri. "But going back through the images, there are some looks that really stand out – I think it's more the memory of the time or the show, which is what I love so much about fashion: every season, it's new."
It's this newness that Terri says keeps her from ever becoming bored with the styling process. As fashion changes, it presents new opportunities for innovation and presentation, and allows Terri to style fresh runway shows each fall. These are her all-time favorites… for now.
1. Make It Monochromatic (2013)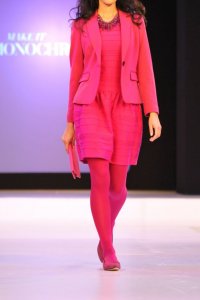 Monochromatic color always steals the show, and this Barbiecore look from 2013 is the first of Terri's Greatest Hits.
"It's a look that's come back this season," she says of the monochromatic trend. "With a textured jacket and dress and then the tights, handbag, and shoes, it's a great look. And obviously, fuchsia is one of my favorite colors."
2. Tailor Made (2014)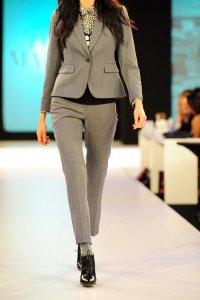 Reminiscent of the 2021 trend runway, this gray suit with handsome oxford heels is next on Terri's list of past favorites. Describing it as a "little fitted blazer and a cigarette pant," this is one of several favorite looks from 2014, a year that emphasized layering and pattern mixing.
"I love menswear styling," says Terri. "And the sense of kind of putting a twist on women's and men's clothing. This one has a great shape to it, and I love the oxfords that go with it."
3. Glam Rock (2015)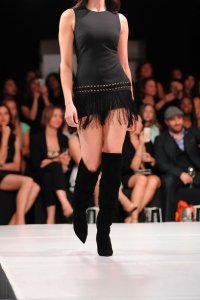 "When I was looking through images from 2015, I don't know what was going on in fashion at that time, but 2015 was a highlight reel," Terri says. "The looks were just incredible all throughout the season."
The first look is this little black dress with fringe and over-the-knee boots, which brings to mind a mix of 2022's Tough Chic and Into The Night trends from the trend runway.
"It's a look that is kind of rock'n'roll and fun, and it has a little bit of a 'moto' feel to it," Terri explains. "It was the start of us using vegan leather on the runway, and of course, over-the-knee boots are back this season."
4. Mod Squad (2015)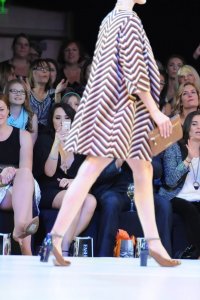 Terri's other favorite look from 2015 is this mod throwback, which features a chic patterned swing coat with a short, vintage-inspired frock underneath and color block heels.
"I love the shoe in this look, with the detailed treatment on the back and those ankle straps," Terri says. "It's the mix of the camel with the blue. I think it's special and new, and it all came together so beautifully."
5. Game On (2016)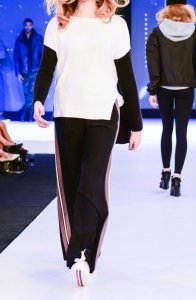 According to Terri, this athletic look from 2016 marks an important fashion milestone: "It was the start of being able to wear our joggers out in public." The runway scene seems particularly prescient now, with post-lockdown fashion focusing on the transition from comfy clothes to presentable daywear.
"It was so much fun to take that utilitarian look and make it more daytime, rather than just going to the gym, and updating it with a blazer or cool shirt and tennis shoe. It's a fun look, and I like the resurgence of the track pant."
6. Suit Yourself (2018)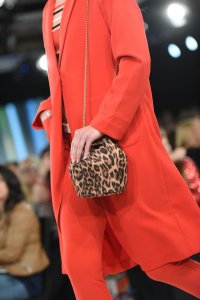 "This look features another one of my favorite colors," says Terri of this matching sweater jacket and pants set from 2018. "I also love the pattern mixing, with the striped tee and the animal print bag. That's a classic trend that keeps coming back, and you can see echoes of it on this season's runway."
7. Tory Burch (2021)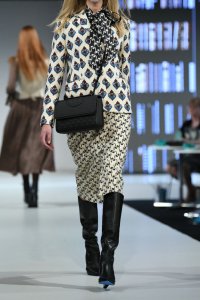 This look from the 2021 Collective Runway Show is another that Terri loves for its pattern mixing, courtesy of Tory Burch. She credits the look's cohesion to its impeccable tailoring, with the jacket creating clean lines and defined shapes. More than that, the boots and bag add a timelessness to the look and keep it from becoming visually busy.
So, what makes a look a classic? According to Terri, a classic look is one that mixes the novelty of new fashion with investment pieces that can stand the test of time.
"It's about getting things that you can update season to season," she says. "Things you can change a little bit or wear a different way – maybe this blazer with those joggers, or that swing coat with a different dress. Every one of these 'greatest hits' is a look that falls into this category – trends that were big then that are still on the runway, because they work."
About Terri
Terri C. Morgan is the owner and director of TCM models and talent, based in Seattle. She started her career in fashion first as a model and then as a fashion show producer and stylist. Combining her love of fashion with the creative process needed for show production was a natural transition that has led to her producing hundreds of fashion shows over the last 40 years. She loves the ever-changing fashion world and expressing that to audiences from the runway. Terri is the fashion show producer for The Bellevue Collection and Bellevue Fashion Week.