LIVE Studio: Five Thoughtful Ways to Elevate Your Work from Home Environment
October 21, 2020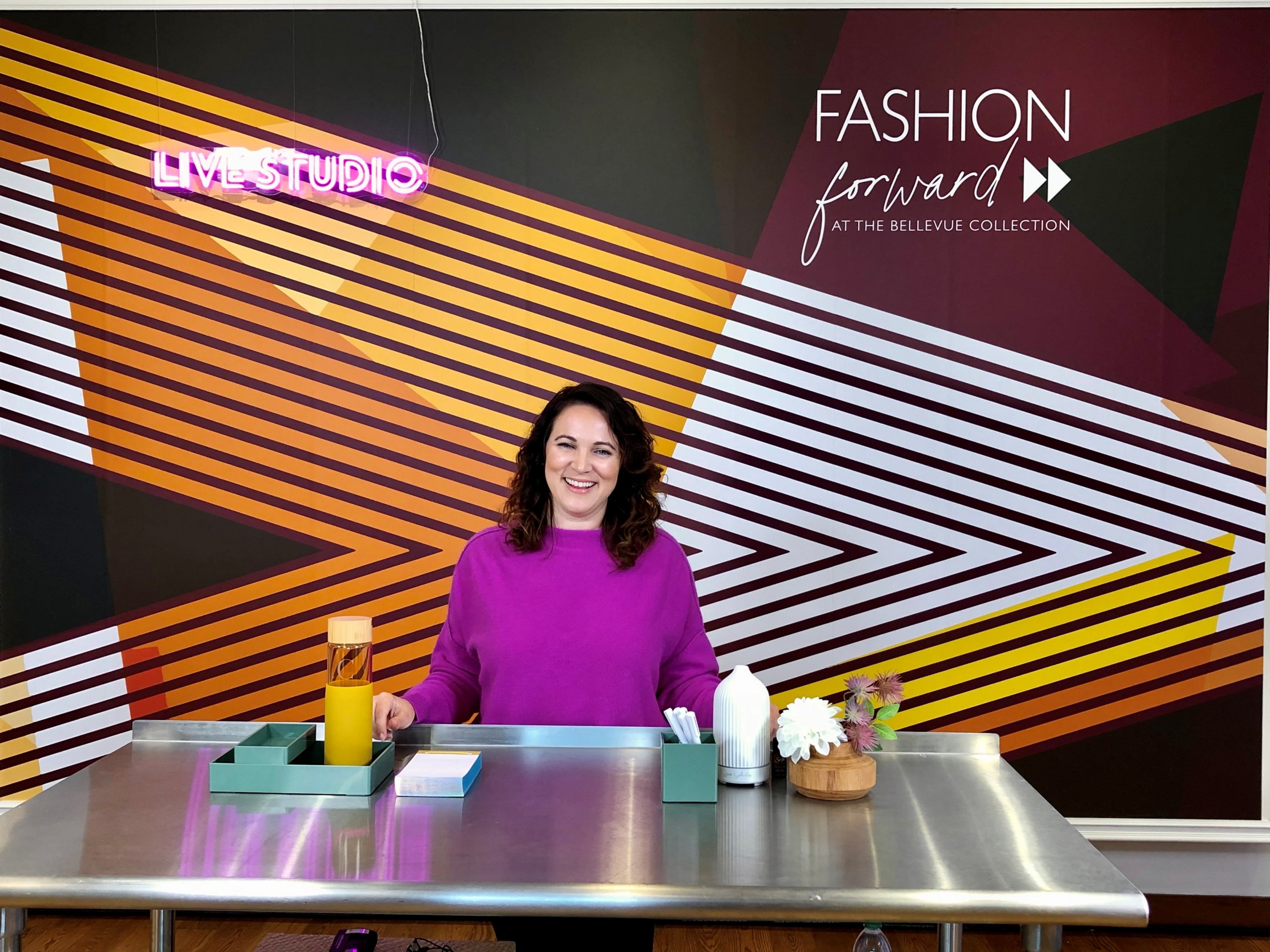 Hey everyone, I'm Cassandra LaValle, founder of Coco Kelley where I curate fresh ideas for designing and styling homes. I'm here today in partnership with The Bellevue Collection to talk about ways to transition your work space for fall.
With the arrival of fall, many of us like to cozy up our homes in preparation for the season, and our work from home spaces should be no exception!
Along with the basics (good lighting and a comfy chair!), it's the perfect time to think about elements like wellness and organization for your workspace. Whether you have a full home office or are working from your dining room table, all of the pieces we've selected from shops throughout The Bellevue Collection will enhance your work space AND your home!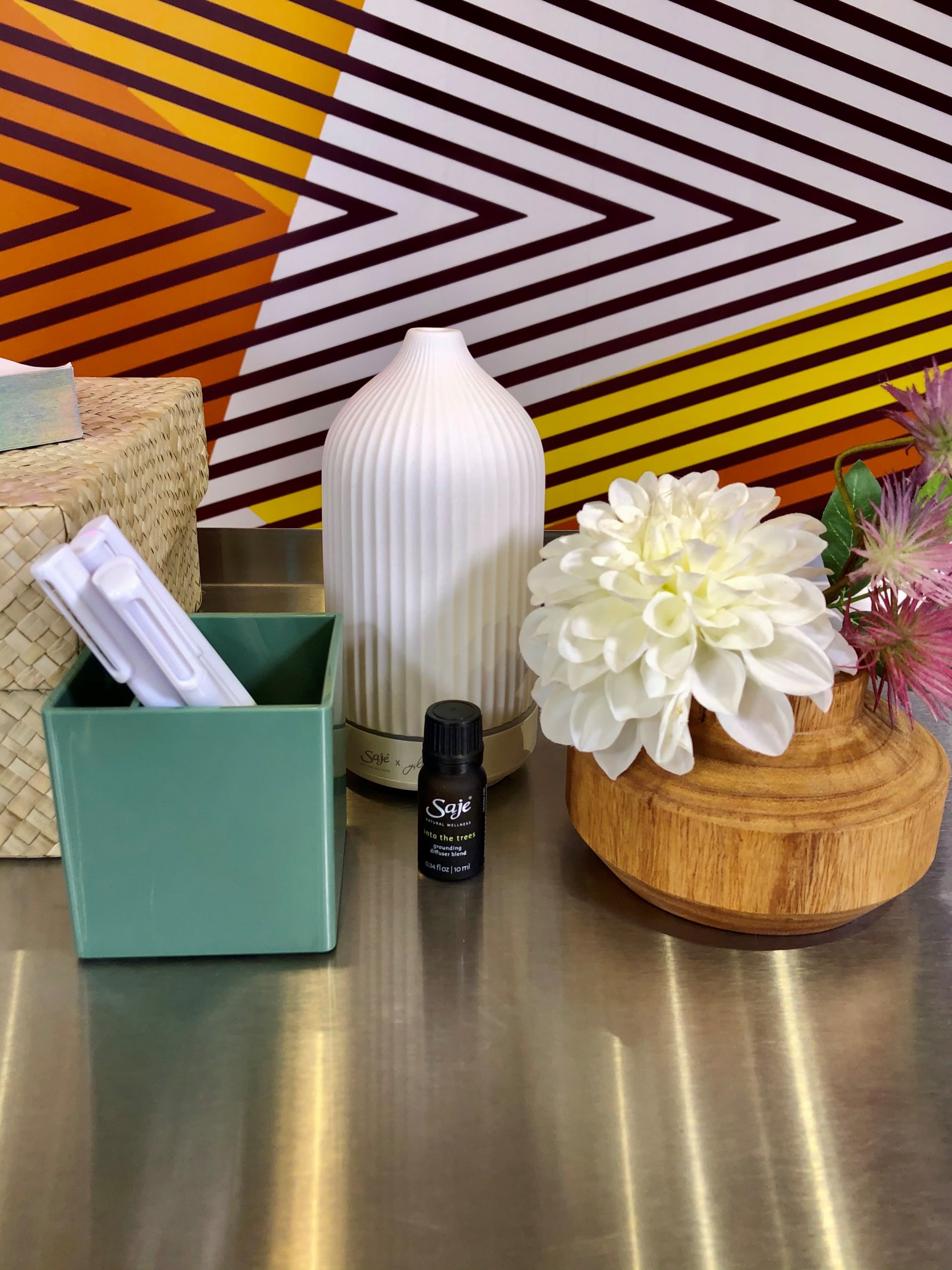 Trays - The Container Store, Diffuser and Oil - Saje Wellness
Let's start with some aesthetically pleasing organizational pieces. Colorful trays and pen organizers from The Container Store are my favorites! I use them in my own home and find that they help me to corral to-do lists, sticky notes, pens, scissors, whatever you might need at your fingertips. There are a variety of sizes and colors to compliment your home decor, or consider assigning different colors for each person in the house. I like these specific pieces because even if they're sitting out, they're easy on the eyes!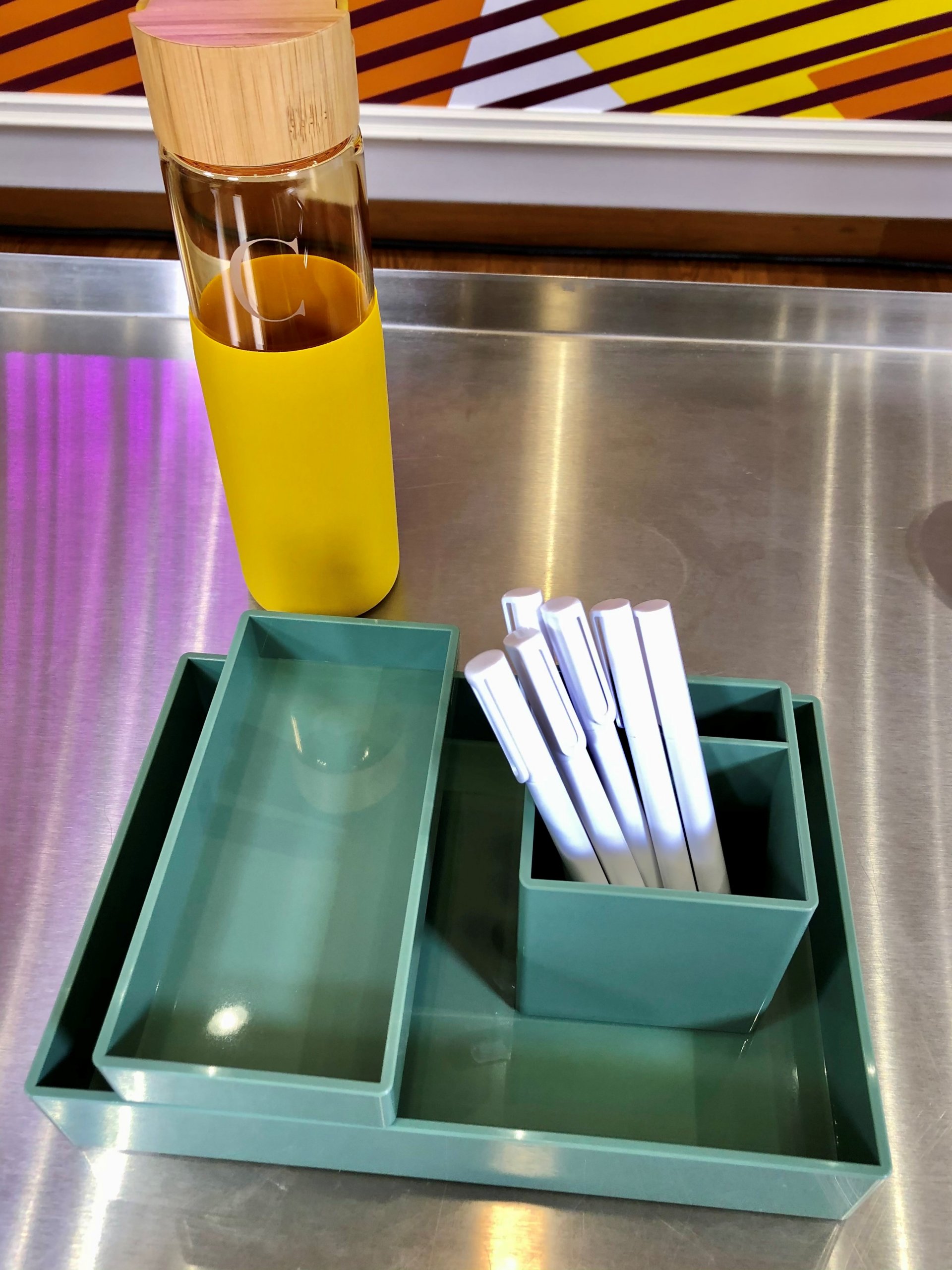 Trays - The Container Store, Water Bottle - Anthropologie
A couple other essentials for any work space are a water bottle (to remind us to hydrate!) and a notepad for to-do lists and quick notes. This water bottle and notepad from Anthropologie are ideal because their monogram will ensure that your other family members or roommates are keeping their hands off your stuff! I especially love this style of water bottle because it lets you fill it with fresh lemons or cucumber, whatever infusions you like to stay healthy or flavor your water with. Also, the wide mouth makes it way easier to clean than others.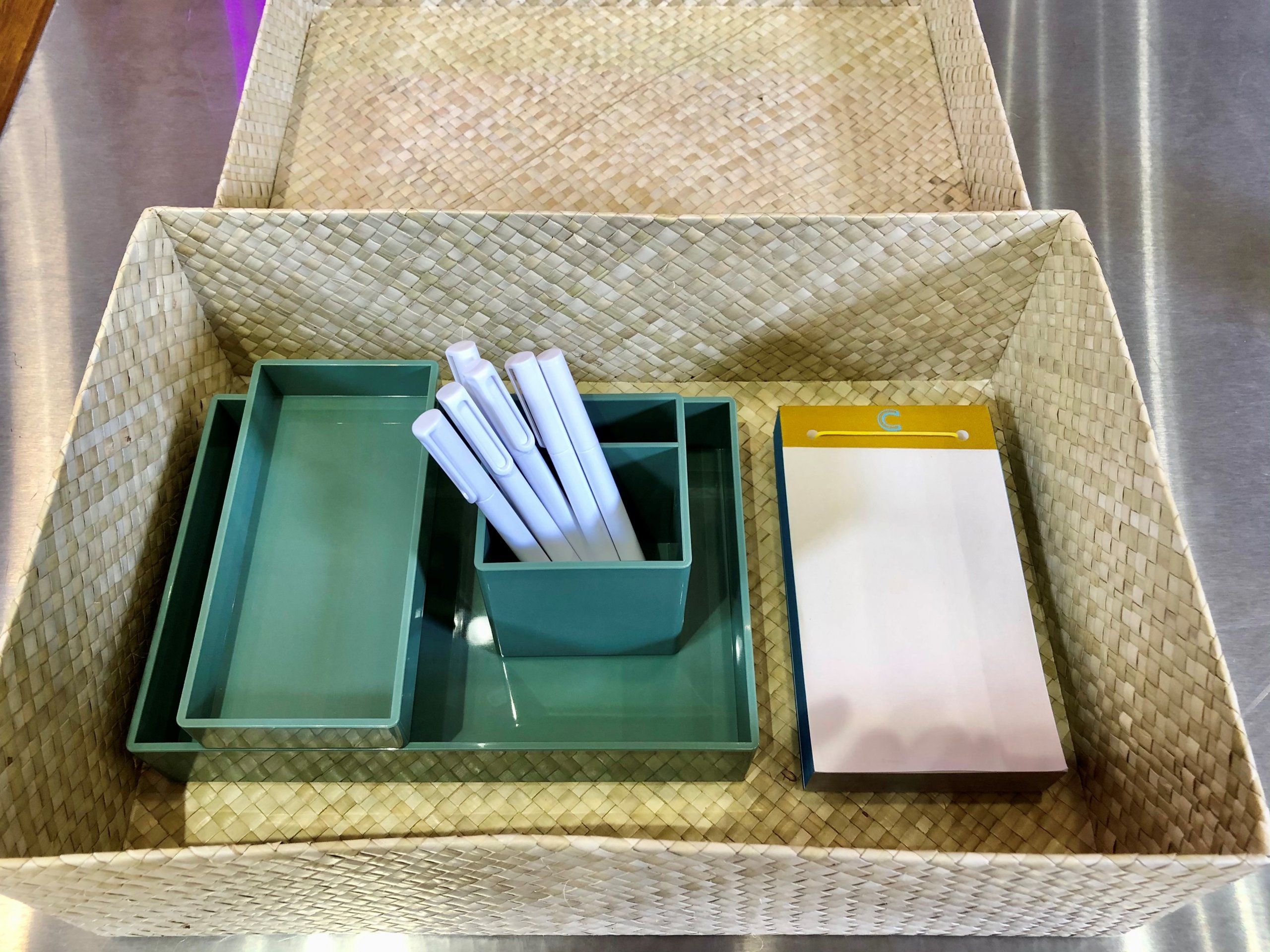 Trays - The Container Store, Notepad - Anthropologie
In keeping with the wellness aspect of your desk, one splurge I highly recommend is an essential oil diffuser from Saje. The essential oils are uplifting and there are so many choose from! I recommend heading into the store to smell them all in person so you can find the perfect blends for you. I like to choose scents for different times of day – some will ground me, and some will wake me up! You can also start by using their roll-on oils to see what works best for you.
Last but certainly not least, I think it's essential as we move into the colder months to bring more nature into our workspaces. While I love houseplants and I also enjoy having a rotating view of flowers in my home. A smaller vase, like this wood one from Crate & Barrel, helps save a little space. It's also really pretty on its own with its organic texture! Filling your vase with flowers every Monday can be a really lovely ritual for yourself and mental health.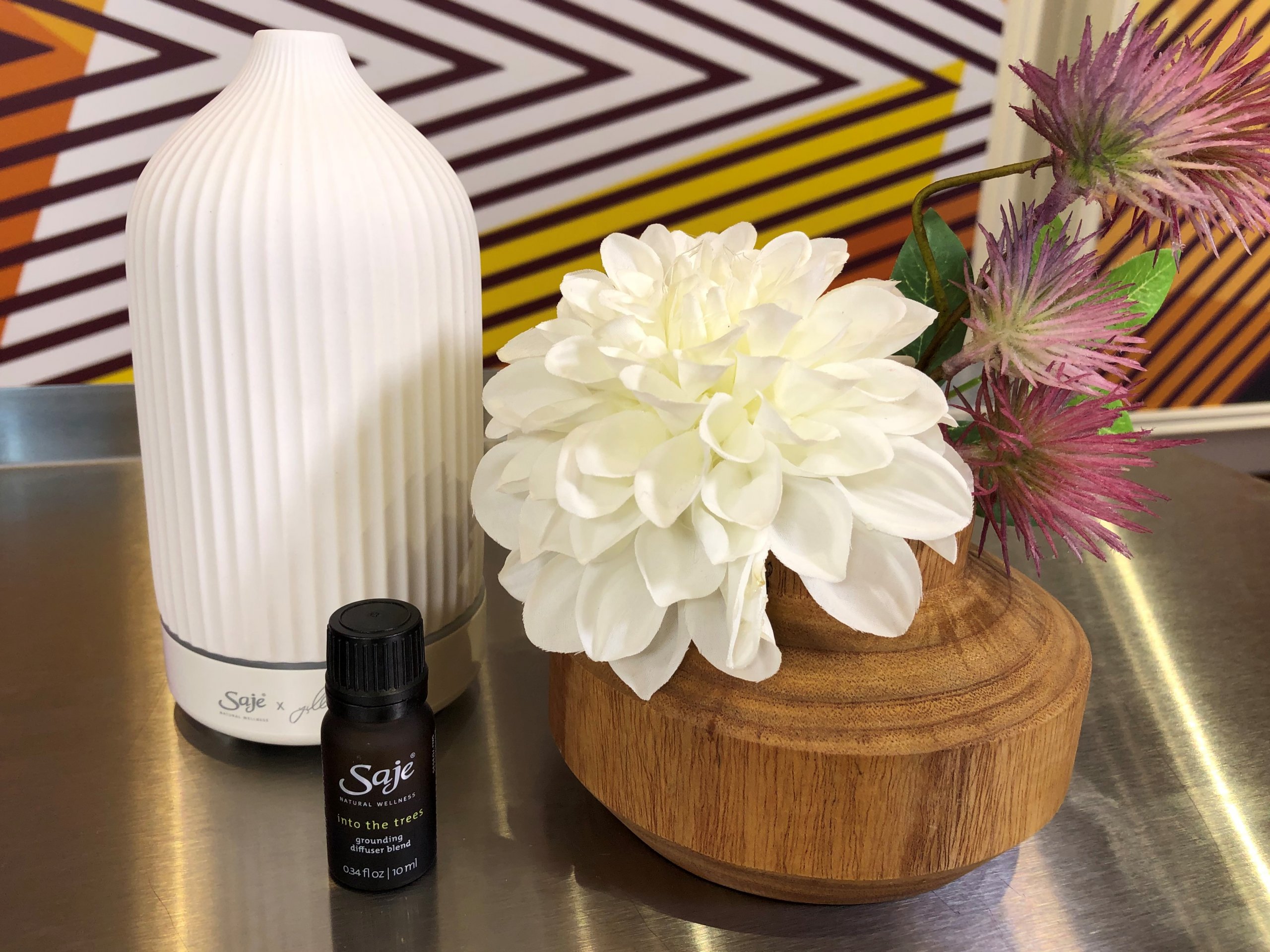 Diffuser and oil - Saje Wellness, Wooden vase - Crate and Barrel
Finally, one of the most important lessons I've learned from working from home these past few months is that separating work and home is essential! My favorite way to do this now is to put everything – my laptop, cords, notebooks, whatever it is that screams 'work', into a pretty box and put it away for the weekend. These boxes fit under a bed, or you can designate a spot on a bookshelf or in a closet. You can even leave them out, because they're not bad to look at! I just personally love having a place to put it all away and forget about it until Monday morning.
I hope you've found some of these tips helpful for upgrading your workspace for beauty, wellness and function!