Wellness Wednesday: 4 Fitness Solutions To Elevate Your Workout Routine
February 16, 2022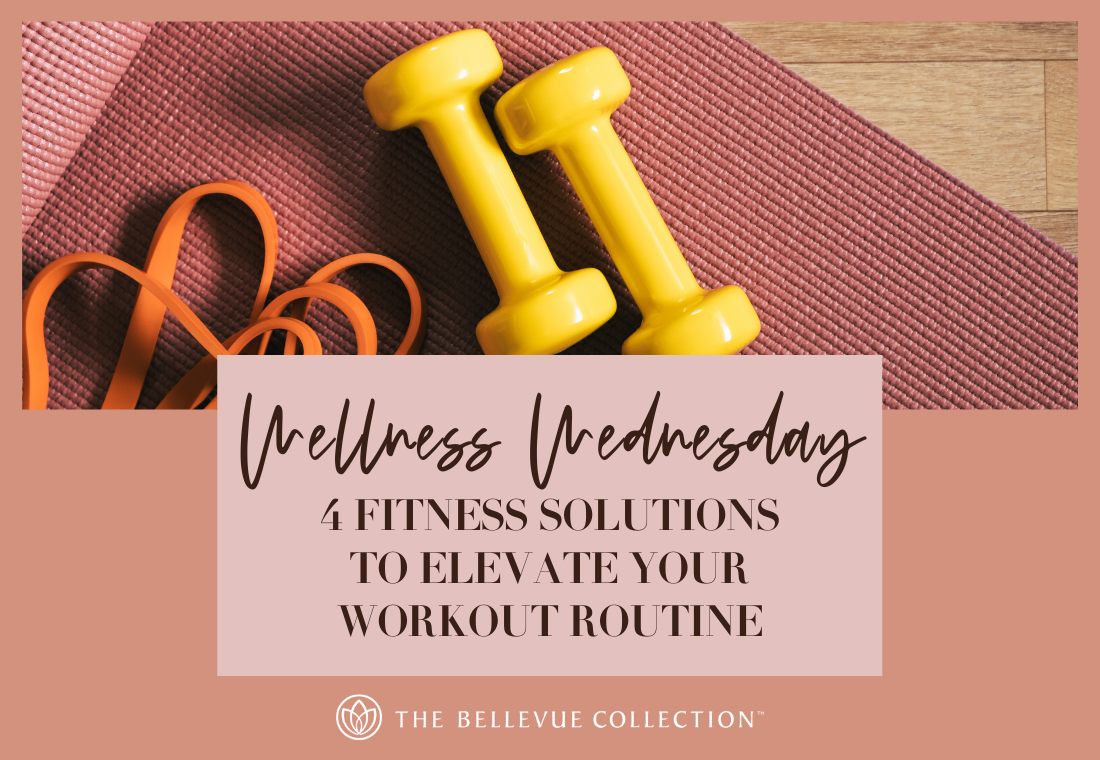 As you move through winter and into spring, it can be easy for your fitness routine to lose momentum. Before you hang up the Fitbit and trade cardio for cabernet, consider upgrading your workouts.
Challenge: You love one-on-one personal training, but you can never seem to match up your schedules.
Solution: Tempo's all-in-one home fitness system
Tempo is uniquely designed to give users an interactive personal training experience from the comfort of home. Whether you're focused on injury prevention, or the satisfaction that comes with knowing you're doing it right, 3D Tempo Vision™ technology can give you feedback in real- time. As you work out with Tempo, the system pairs you with live and on-demand workouts that match your fitness and wellness goals, helping you improve your form and meet your specific needs. It's the perfect solution for those who love working with a personal trainer, but without the time constraints and obligations inherent while working with a trainer in-person.
The Tempo Studio is an all-in-one gym — a freestanding system that can be combined with a Pro Package to include a weight bench, kettlebells and more. The Tempo Move is a more compact version, with a phone dock that links to your TV and an end table-sized storage space for your weights. Both systems make full use of 3D Tempo Vision™ and its benefits.
Visit Tempo on the second floor of Bellevue Square next to Tommy Bahama to learn more. You can take a class in-store, test the system, and see if it's the right fit for you.
Challenge: Your home cycling workout just isn't feeding your competitive side.
Solution: Sweating it out at SoulCycle
Location, location, location: a change of scenery can make all the difference. While the bikes at SoulCycle may be stationary, fast-paced music, an energetic instructor, and a room full of equally energized cyclists can elevate your experience and propel you toward the fitness PR you're looking for.
SoulCycle Bellevue offers in-person classes with a variety of themes, instructors, and playlists. The goal of SoulCycle is to empower you, the rider, to reach your full potential during your workout and beyond. And, if you're really feeling it, sign up for a SuperSoul membership to reserve a spot in your favorite classes up to six weeks before regular booking opens. Visit their website for more information.
Challenge: You're easing back into fitness, but you don't want the pressure of taking group classes.
Solution: A Peloton bike and subscription
If you'd prefer to go at your own pace, rest when you need to, and only compete with yourself, Peloton's wide range of classes may be a fit. Unlike other stationary bikes, the Peloton bike allows you to turn its screen around and use it to play mat workouts, and the Peloton app can play workouts on-demand on your phone, tablet, or television. Peloton's on-demand lineup of classes, led by energetic instructors, enables you to peruse classes and choose ahead of time, so you always get the workout you need the most. Whether you want a high intensity interval training session or gentle, restorative yoga, the Peloton app has it all.
Visit the Bellevue Square Peloton showroom to try their equipment for yourself and decide what setup is right for you.
Challenge: You miss the gym, but you're not ready to commit to a regular membership.
Solution: Individual class packages at TruFusion
Whether it's access to the equipment you don't have at home, the energy of an in-person workout class, or the desire to mix up a stale routine, there is no substitute for working out at the gym. However, with fluctuating restrictions and busy schedules, it can be tough to commit (or want to commit) to a full membership. Fortunately, TruFusion understands, offering monthly memberships (priced by number of classes), as well as more flexible drop-in class packs.
TruFusion offers yoga, barre, pilates, circuit training and cycling classes in a range of levels and styles. Heated workout environments and the mentorship of experienced instructors can help reduce the risk of injury and help you make the most of your workout. Visit their website to learn more.
And, of course, the greatest motivator of all: new clothes. Look your best on the bike, mat, and treadmill with chic athletic and athleisure outfits from Fabletics, Athleta, Lululemon and more. Visit The Bellevue Collection to see the full range of fitness brands.