3 Tips for Self-Care
May 20, 2020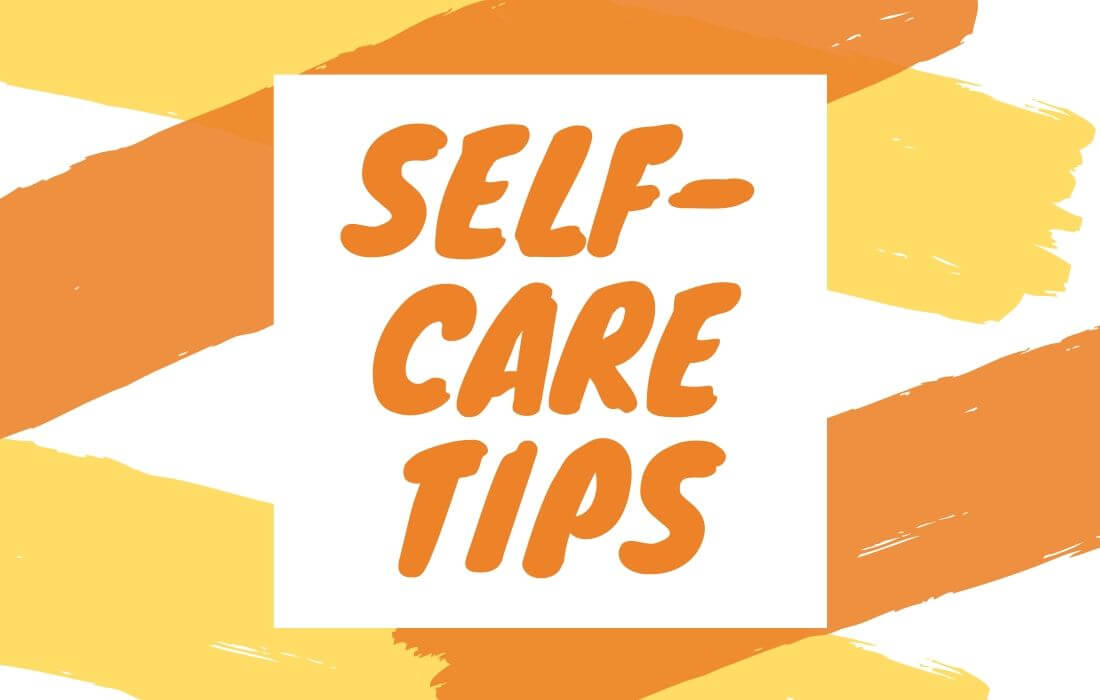 We are all adjusting to the new now and spending much more time indoors. This creates the opportunity to re-center and do some things that you may not have had time before. While some of these tips below are beauty related, there are also things you can do that just help you feel better mentally. Which we can all agree that is welcomed right now.
Try some of these out and see what works for you. That is the key, do what feels right for you because that is what self-care should be.
It's Lit
Need a way to a create a happier space while spending time indoors? Smudging and candles are two ways to bring inner peace to your space. Smudging is a calming ritual to help clear your home of bad energy and thus, bringing good vibes.
For this you will need: a few white sage bundles or palo santo sticks, matches or lighter and heatproof dish (like a ceramic plate) to catch embers that may fall under the smudge stick. Start the ceremony with having good intentions and inviting only the purist of energies into your home and ushering out anything that is not. Light the stick and hold it over heat-proof dish and start from your front door. Then, walk around the perimeter of your house while keeping those positive intentions in mind and feel free to say them aloud or not, whatever your comfort level. Allow the smoke to drift to different spaces in your home and in particular, where water flows. That means places like your sink or bathtub where good energy can "flow" out. After you have given your home a good cleansing, make sure to safely put out your smudge stick. A good tip: make sure not to set off smoke detectors and be careful when walking around with embers and ash, better in the dish than on your rug.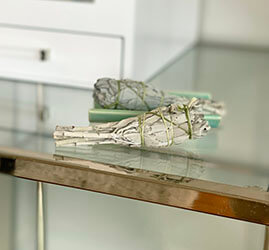 Another way to light your way to some inner peace is a candle that's nice to look at and of course, smells good. This is an easy, low-commitment item that can perk your senses. These candles also have good looks going for them and will make any room feel just a bit fancier. And with all the time spent at-home right now, what you keep in your home these days is just that much more important.
Here are some that we recommend with our curb-side stores: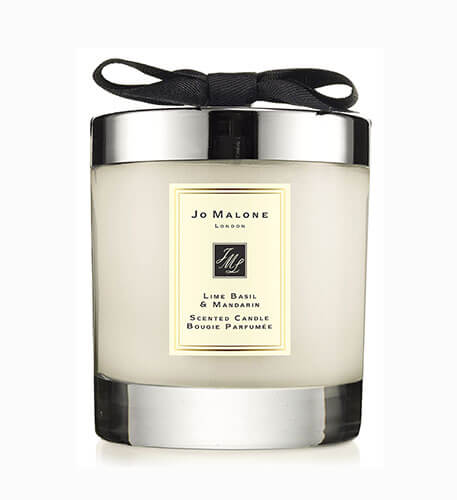 Jo Malone London Lime Basil & Mandarin Candle available curb-side Nordstrom.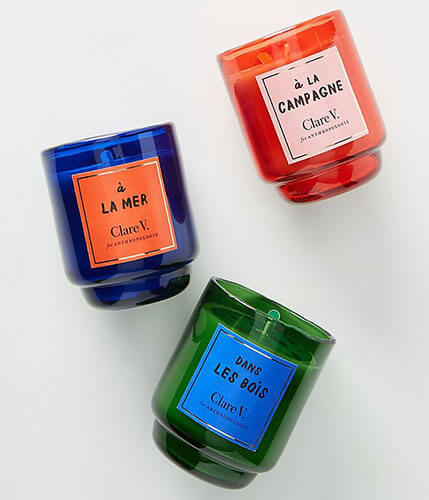 Clare V. Maisonette Glass Candle available curb-side at Anthropologie.
2-Ingredient Mask
There are a ton of great sheet, gel, clay, what have you, masks and while we do love those, not all of us can easily or quickly get those now indulgent items. So, here's an easy two-ingredient mask that uses just some matcha powder and honey like, clover, orange blossom or manuka, the choice is yours! Honey has anti-inflammatory and anti-bacterial (no, it doesn't replace rubbing alcohol) properties that make it great for skin. The vibrant green matcha powder is packed with antioxidants and again, is anti-inflammatory, which your skin will love. Just mix about a teaspoon of each ingredient in a small bowl and apply to your cleansed face for about 10 minutes. You can take that time to meditate, check out some of our other Stories posts, or scare your quarantine house-mates. Rinse off with warm water and after patting dry, we recommend going over with a cotton pad and toner, just to get any residue you may have missed. Now you are ready for the rest of your skincare regimen.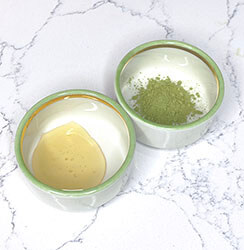 Put Your Thoughts to Pen
If you are in quarantine by yourself or with others, it's a good idea to take some time to write down your thoughts. A 5-minute journal is perfect for those who don't have a lot of time to commit or are journal newbies. You can write about how you feel, anything you observed or whatever else pops into your head. Not only does this help with sorting out any worrying thoughts, but can also remind you of any small things that brought some joy. For those who want to go an artistic approach, you can also start an art journal that brings out your creative side.
Here's a planner journal to help keep yourself to a schedule: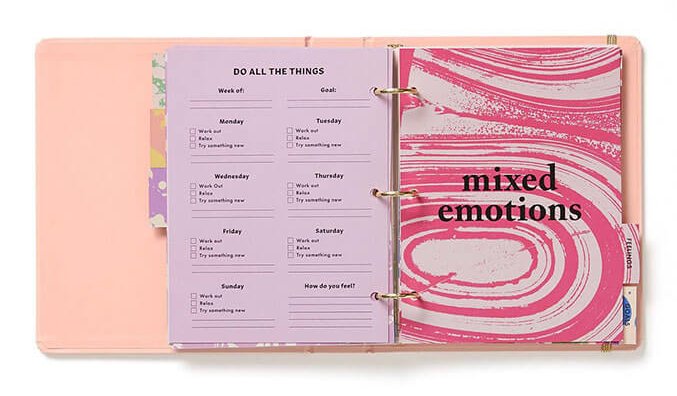 Ban.do Wellness Planner – Take Care Journal is available curb-side at Macy's.