Refresh Your Welcome: Curating Your Entry with Monica Hart
May 4, 2022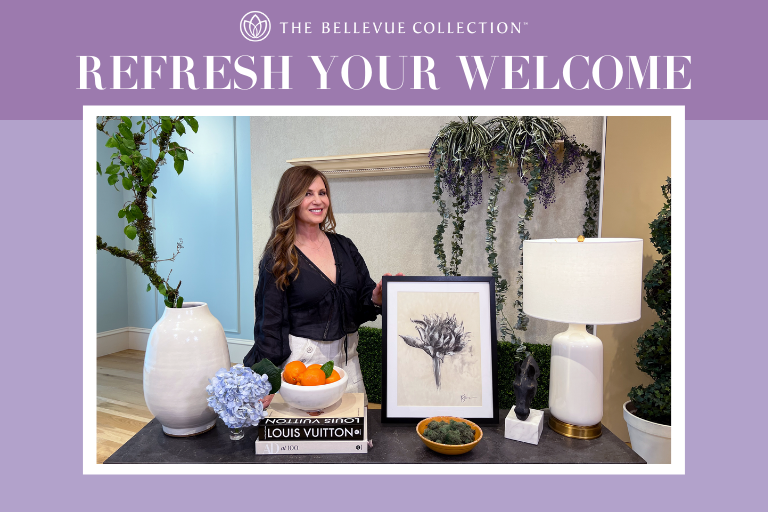 Refresh Your Welcome: Curating Your Entry with Monica Hart
The idea of refreshing your home for spring may evoke visions of sweeping the floor, planting new bulbs in the garden, or putting out the patio furniture in anticipation of warmer nights. Lifestyle expert Monica Hart joins The Bellevue Collection to provide helpful tips for refreshing a part of your home you may not have considered: your entryway.
In this video, Monica shares her must-have items to build an entry table that holds beauty, meaning, and of course, storage. Check it out: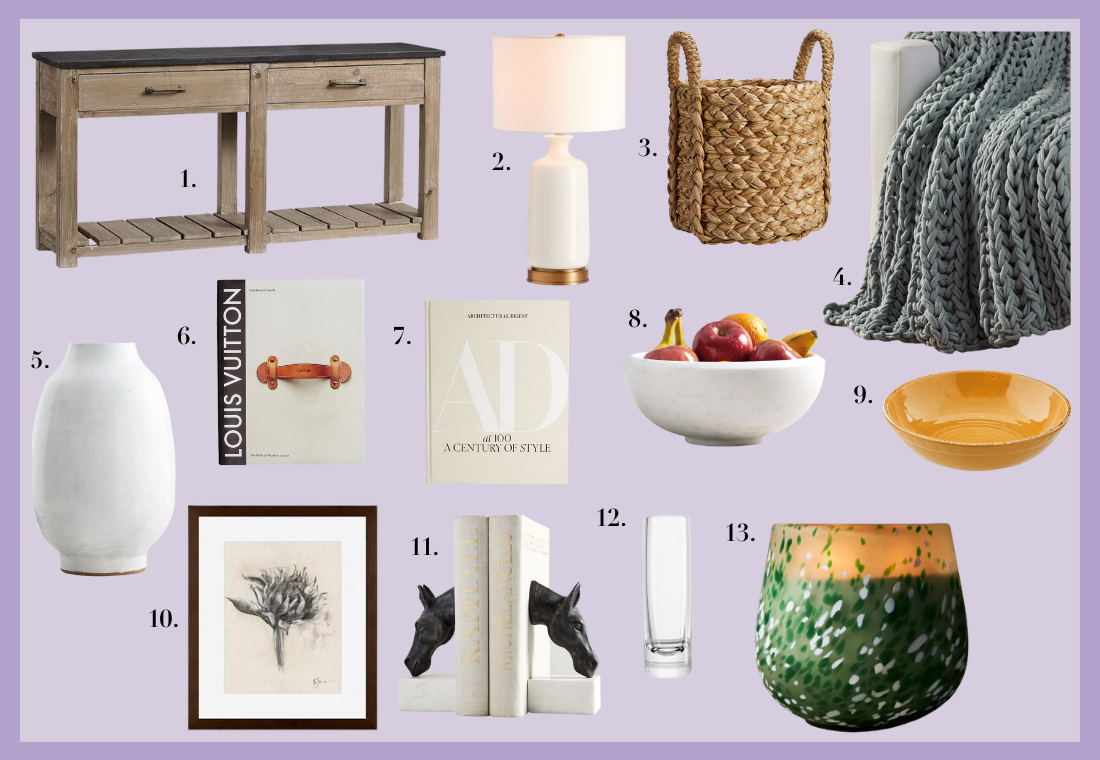 Monica's Must-Haves For A Curated Entry Table
1. The Table Itself
This console table's lower shelf, broad drawers and smooth surface make it an excellent base for your entry's décor. Monica uses the Parker 63" Reclaimed Wood Console Table from Pottery Barn.
2. A Versatile Lamp
Add warmth to your entry with a lamp that elevates the space. This one is the Emilie Ceramic Table Lamp from Pottery Barn.
3. Stylish Storage
It's hard to resist a great catch-all basket and placing one or two by your entryway allows you to conceal everyday items like shoes, the dog's leash, and more. Here, Monica uses two Beachcomber Handwoven Seagrass Round Handled Baskets from Pottery Barn.
4. A Cozy Throw
Monica loves hosting friends and family on her front deck, so she advocates keeping a cozy blanket close to the door for easy access on chilly evenings. This one is the Colossal Ribbed Throw from Pottery Barn.
5. A Large Vase
A large vase can be a statement piece on its own, or an excellent complement to a natural element, like this branch from Monica's garden. This is the Quinn Handcrafted Ceramic Vase from Pottery Barn.
6. & 7. Chic Coffee Table Books
Whether used to add dimension and height to your table, or for guests to peruse, coffee table books are an excellent addition to the space. Monica uses the Louis Vuitton Coffee Table Book and the Architectural Digest: A Century Of Style Coffee Table Book from Pottery Barn.
8. & 9. Bowls with Natural Elements
You don't necessarily have to fill your bowls with fresh fruit or greenery, but it adds color, texture, and functionality to the space. Monica recommends using fresh citrus in a larger bowl (today's decoration is tomorrow's mimosa), and moss in the smaller one.  This White Marble Fruit Bowl is from Pottery Barn, while the Rustic® Outdoor Melamine Bowl is from Williams-Sonoma.
10. Framed Art
A piece of artwork (or a framed photo, if you prefer) can fill space, balance out other large elements on the table, and add visual interest. This is the Single Bloom Charcoal Sunflower Sketch from Pottery Barn.
11. A Conversation Piece
Monica recommends adding an element that is aesthetically pleasing, while telling a little bit of your story. In this case, the Bronze Horse & Marble Bookends from Pottery Barn help her share her love of horses with her guests.
12. A Flower (or Two)
The simple Aegean Clear Glass Bud Vase from Pottery Barn can hold a beautiful clipping from the garden or a durable silk flower to add another natural pop of color to the space.
13. A Big Candle
The Apothecary 18 Decorator Candle from Anthropologie is the perfect finishing touch to this entry display. It provides color, texture and balance to the overall space.
For more ideas on how to refresh your welcome, see this post from our blog.