The Bellevue Collection's Guide to Vacation Essentials
May 24, 2023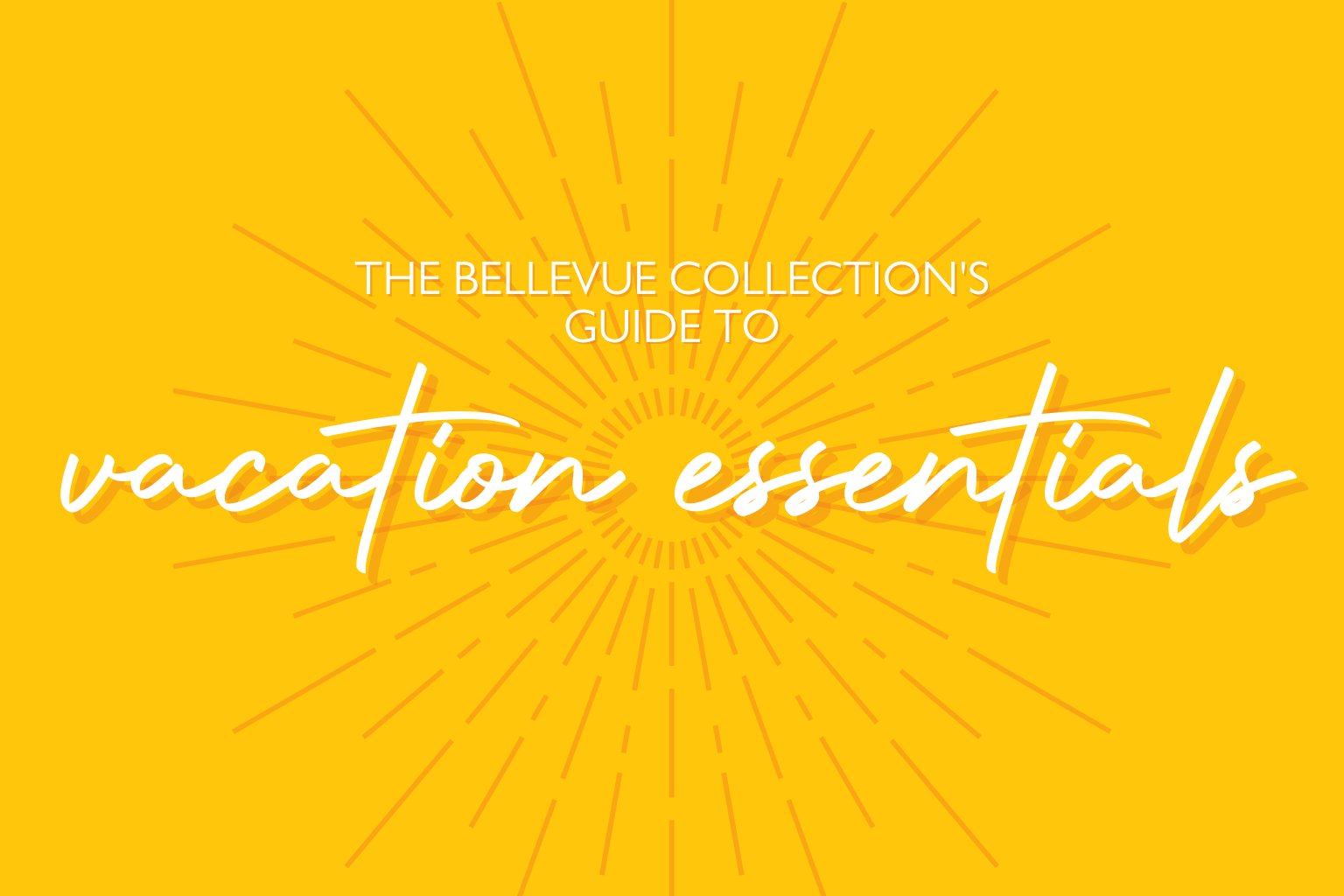 10 Vacation Essentials for Your Best Trip Ever
Your flight is booked, your out-of-office email is set, and you're just about ready for vacation. Before you zip your last suitcase and hit the road, double-check this list of game-changing essentials from The Bellevue Collection that can help make this trip your best one ever.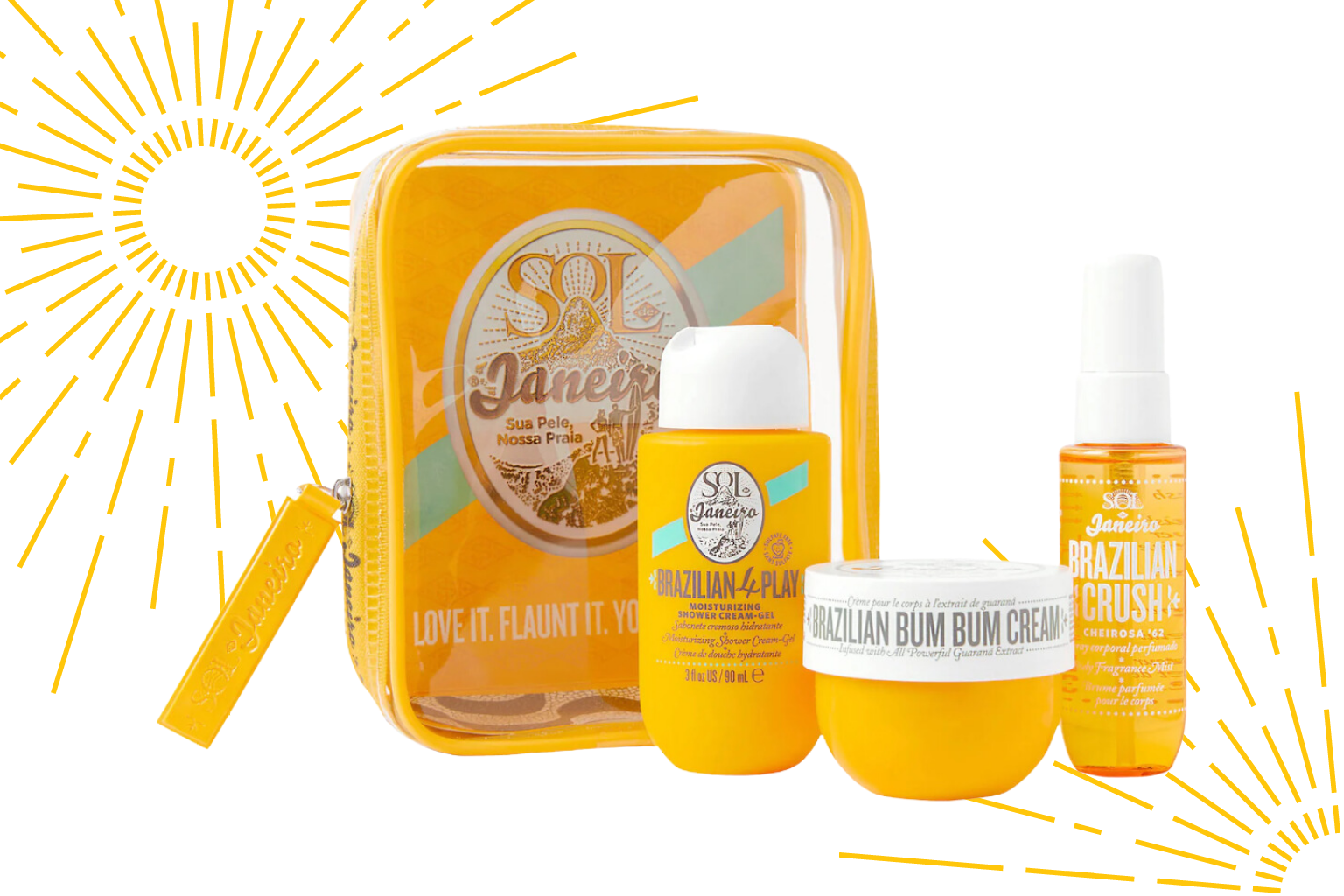 Sol de Janeiro Bum Bum Jet Set – Sephora
Tiny hotel soaps and lotions are adorable, but your skin deserves a treat after a day in the sun. This kit from Sephora includes a travel-sized version of Sol de Janeiro's signature Brazilian Bum Bum Cream, plus a moisturizing shower gel and hair and body fragrance mist.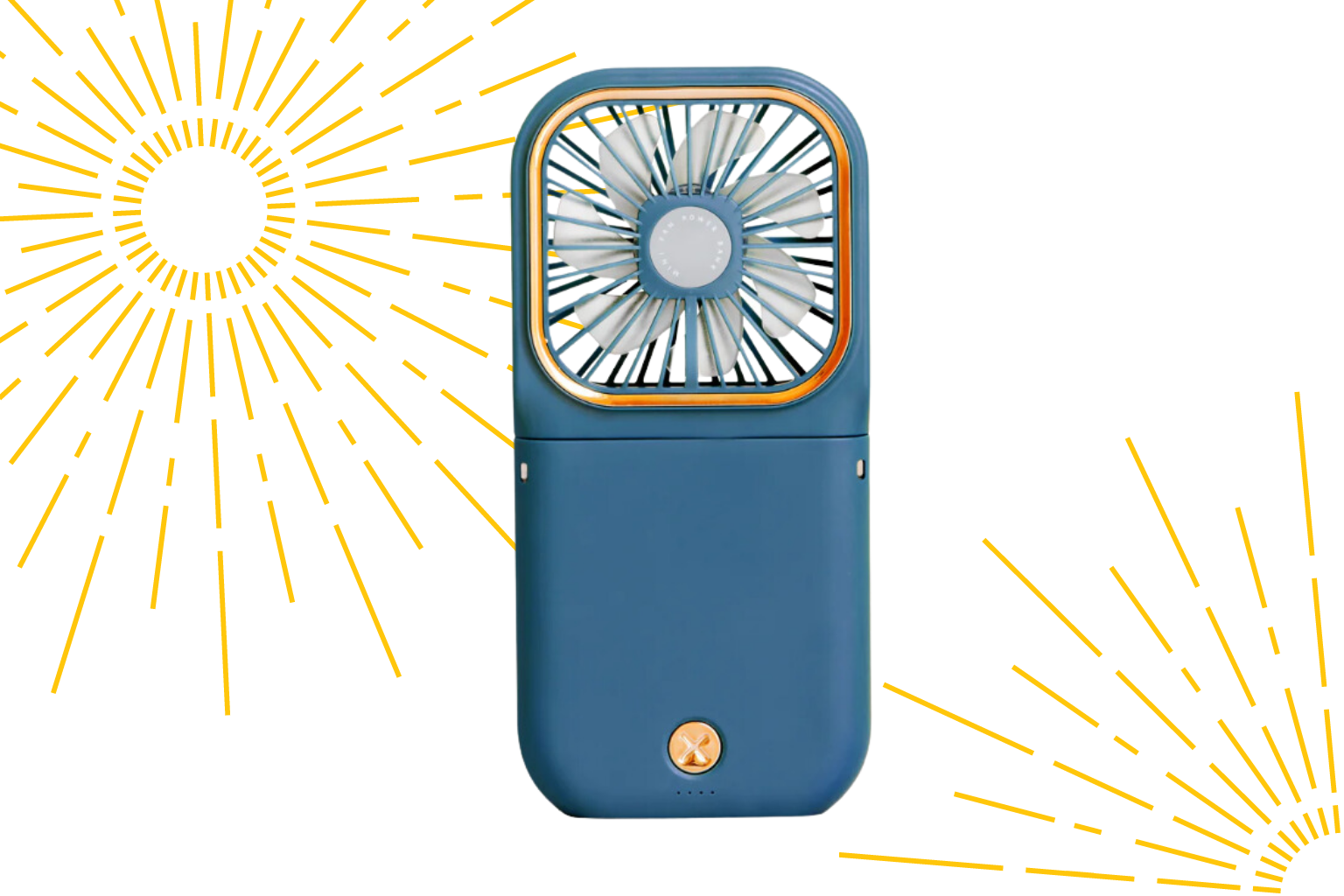 Multitasky 3-in-1 Portable Neck Fan + Power Bank + Phone Stand – Urban Outfitters
It's nice to have a portable fan, but it's way nicer to have a portable fan that can charge your phone. The bottom of this little power bank from Urban Outfitters can unfold, transforming into an L-shaped fan that can hold your phone upright for perfect no-hands selfies.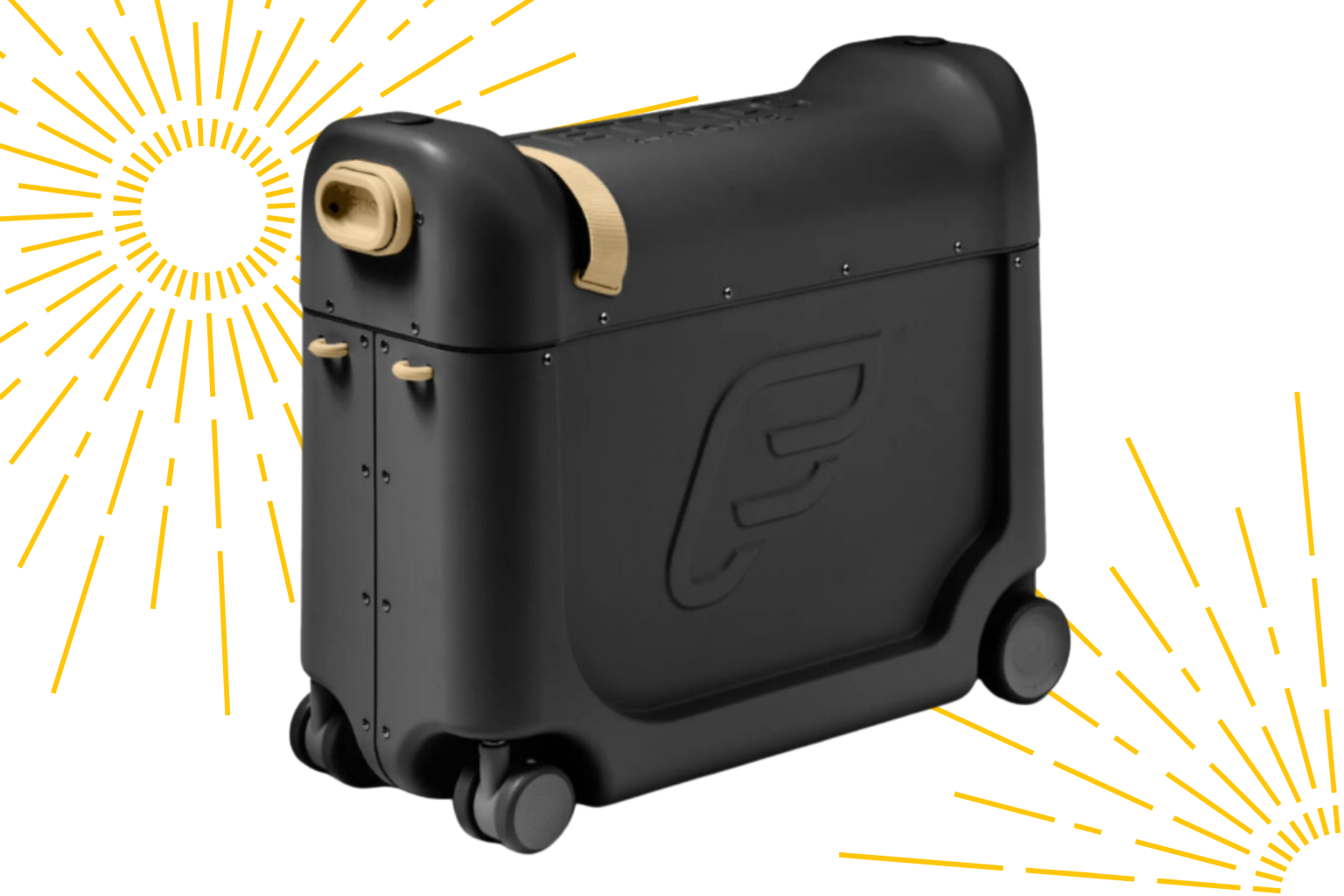 Jetkids by Stokke Bedbox® Ride-On Carry-On Suitcase – Nordstrom
Keeping little ones entertained in the airport and on the plane is no small feat. Fortunately, this suitcase from Nordstrom is up to the task. Its top is designed for children to ride on (pushing themselves or being pulled along), and it's the perfect size to hold toys and activities. If your kids aren't feeling the scooter function, it can also be carried using the built-in shoulder strap. On the plane, its top can be turned upside-down to become a leg rest, with an included mat to build a little in-flight bed.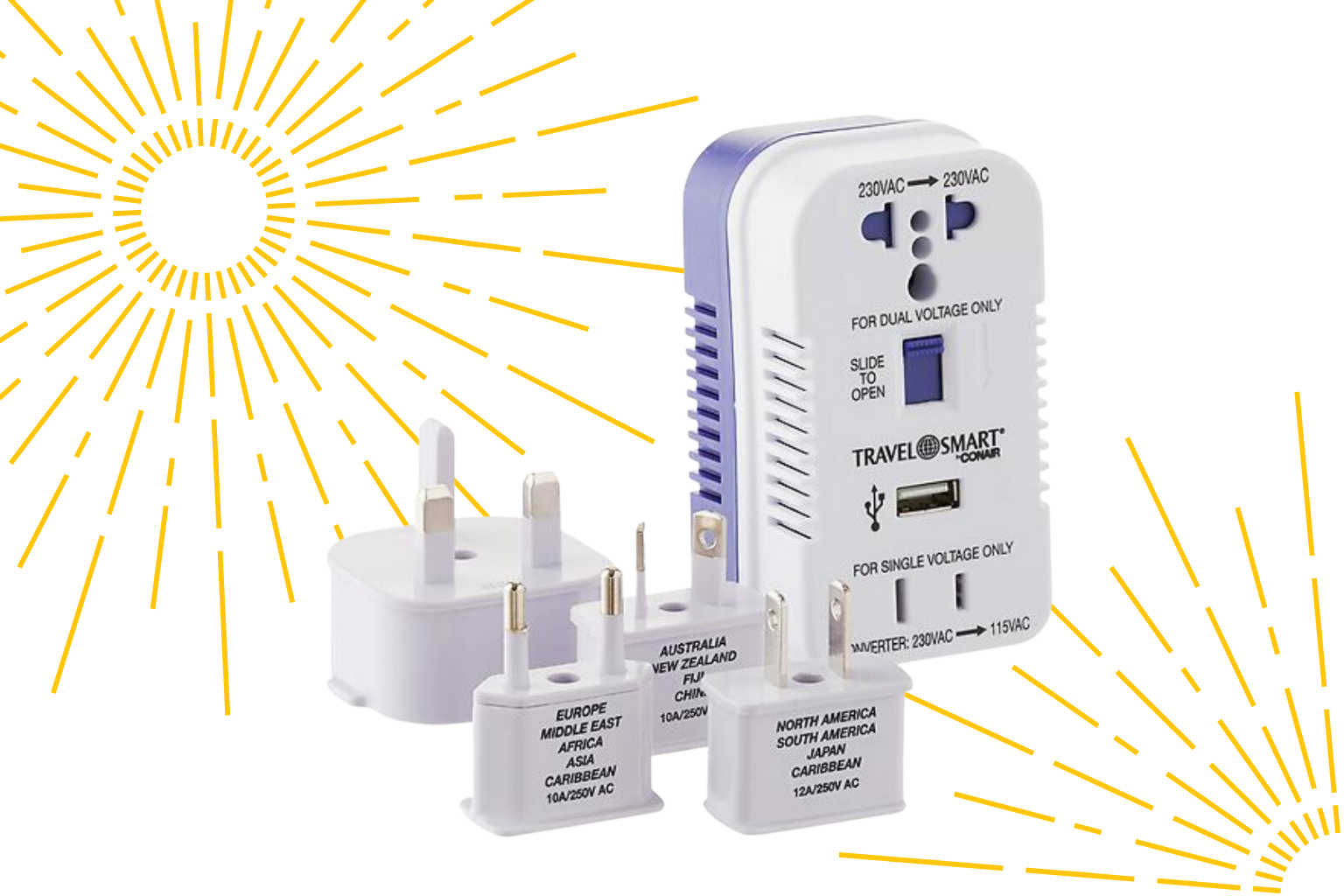 2-Outlet Converter & Adapter Set with USB – The Container Store
Charge your electronics anywhere in the world with ease with this converter from The Container Store. The multi-part appliance includes four adapter plugs in addition to its dual- and single-voltage converter, as well as a direct USB port. Each plug is helpfully labeled with the global destinations it accommodates.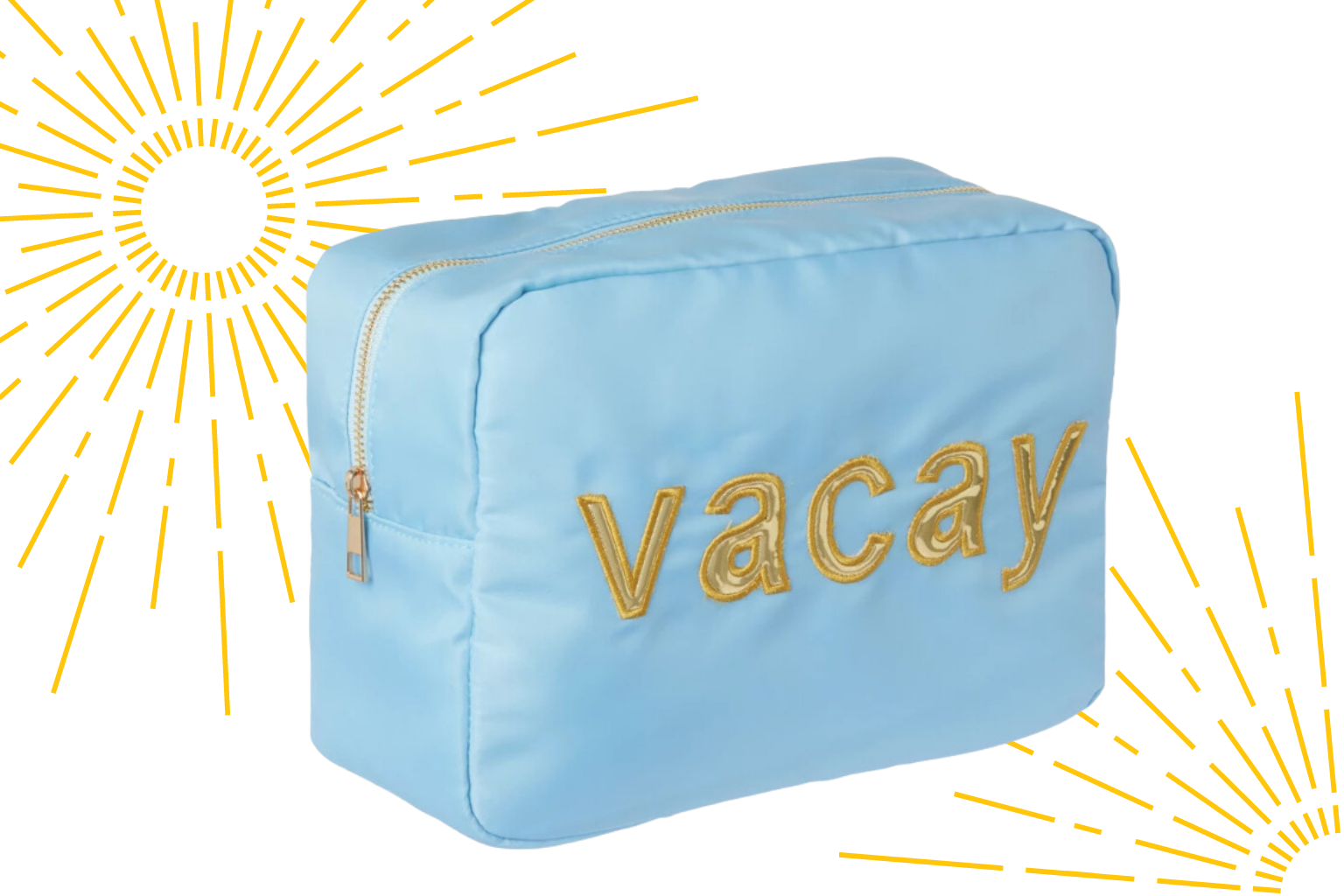 Vacay Zip Pouch – Everything But Water
This adorably handy 8×11" bag from Everything But Water is ideal to drop into a larger tote. It's particularly useful post-swim, to keep your wet bathing suit and sandy flip-flops separate in transit. Not planning to swim? Fill the bag with cosmetics, sunscreen and anything else you might need to keep your glow all day long.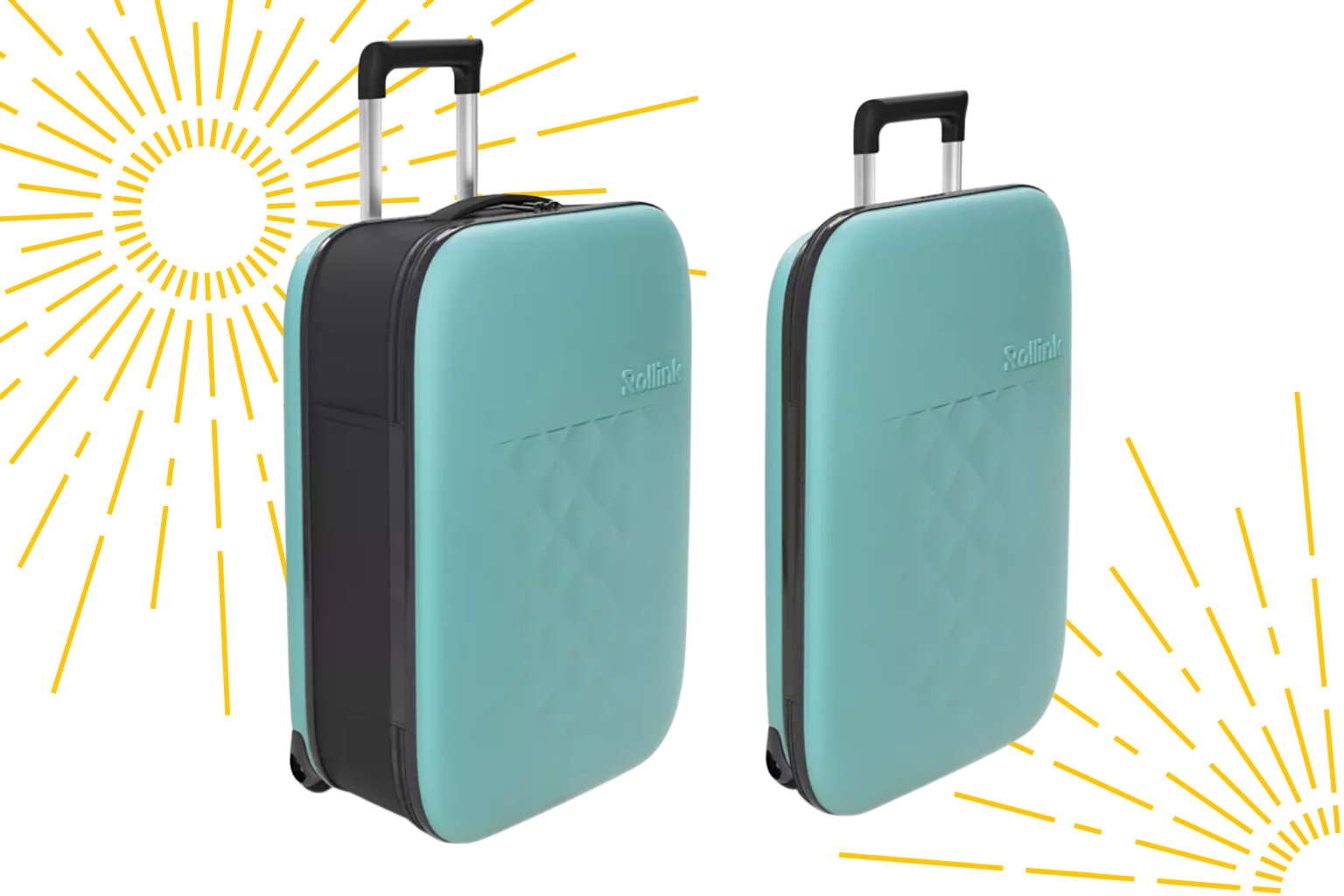 Flex Vega 21" Hardside Collapsible Carry-On – Macy's
Planning to shop on your trip? This spare carry-on from Macy's collapses to a width of only 2 inches and can hold up to 10 gallons of packing volume. Throw it in the bottom of your checked luggage when you're not using it and enjoy the extra capacity on the way home.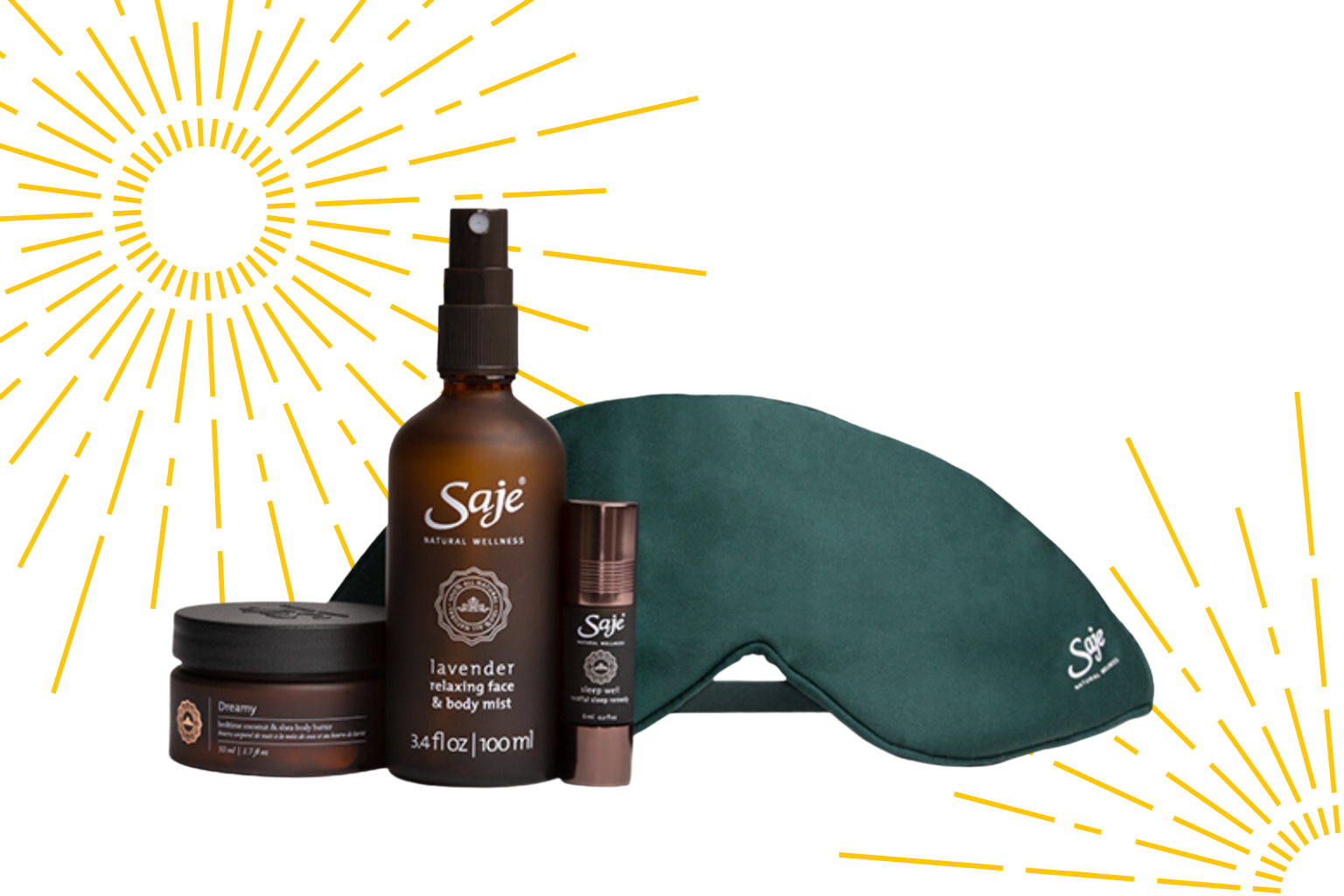 Dream Routine Kit – Saje Natural Wellness
Whether you're trying to rest on a long flight or have a tough time sleeping away from your own bed, the Dream Routine kit from Saje can help you wind down and ground yourself for the best possible rest. The kit includes a Tencel Silk Eye Mask, Sleep Well roll-on, Dreamy Bedtime Body Butter and Lavender Relaxing Mist.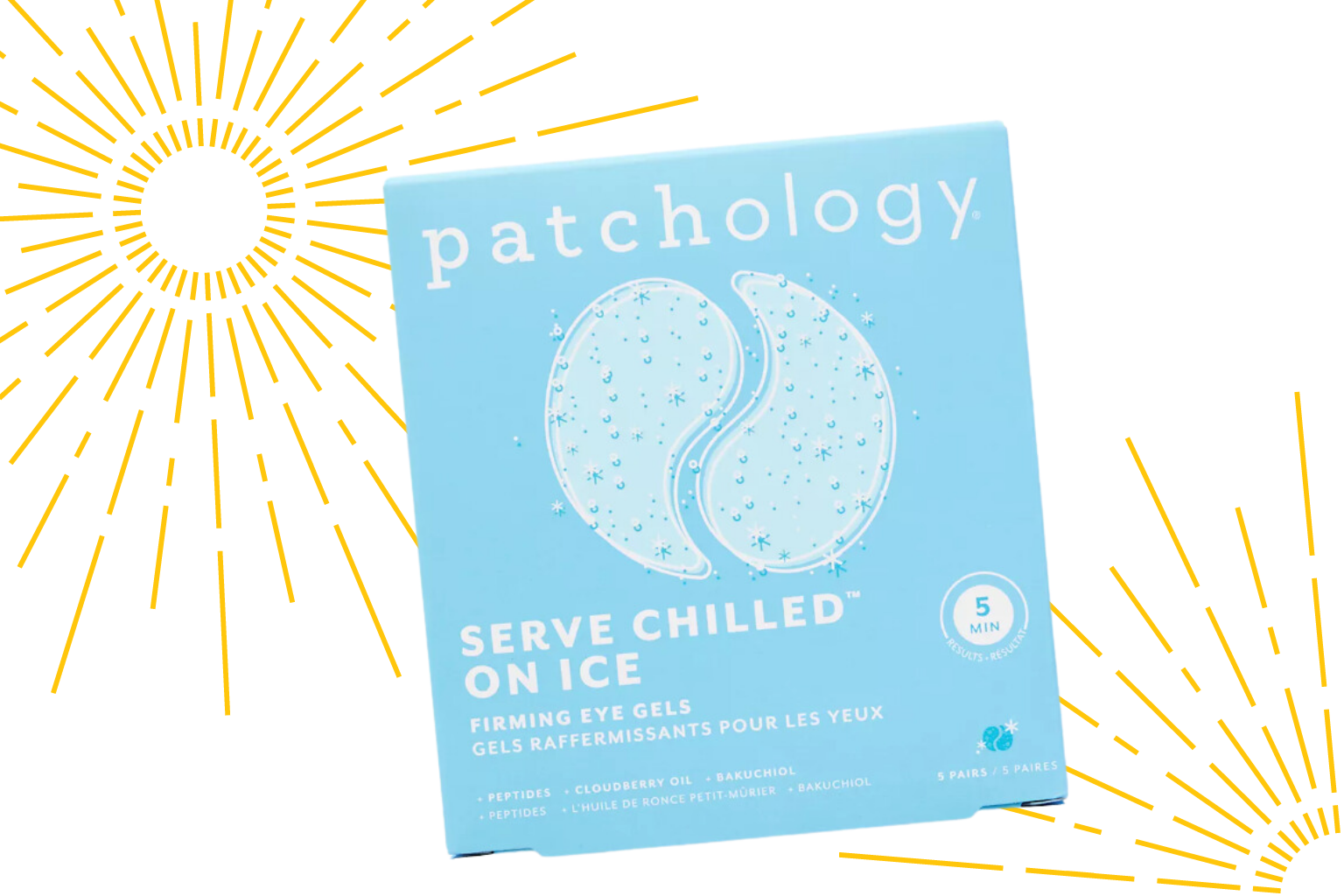 Patchology Serve Chilled On Ice Firming Eye Gels – Anthropologie
Leave your eye bags at home; this pack of five eye masks helps cool and firm your undereye area in just five minutes. Use this pack from Anthropologie to banish all signs of jet lag-induced puffiness so you can look refreshed in all your trip photos.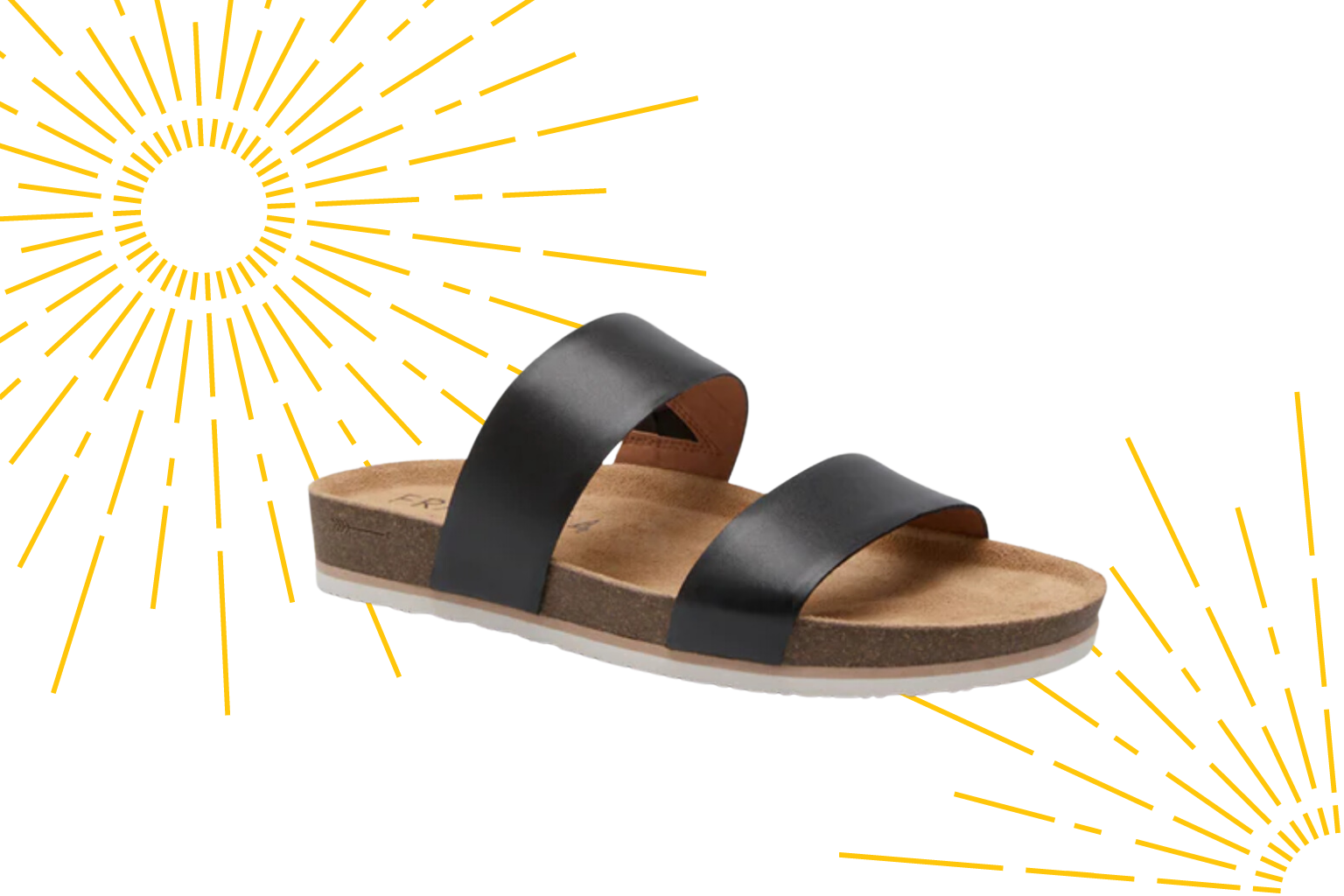 Maria II Black Sandals – FRANKIE4
Trade your flip-flops for these podiatrist-developed slides from groundbreaking Australian designer FRANKIE4. Designed with your back and knees in mind, these sandals were made for walking, whether it's through the airport or all over the resort. To see more styles, visit their flagship store at Bellevue Square to see the other options in stock.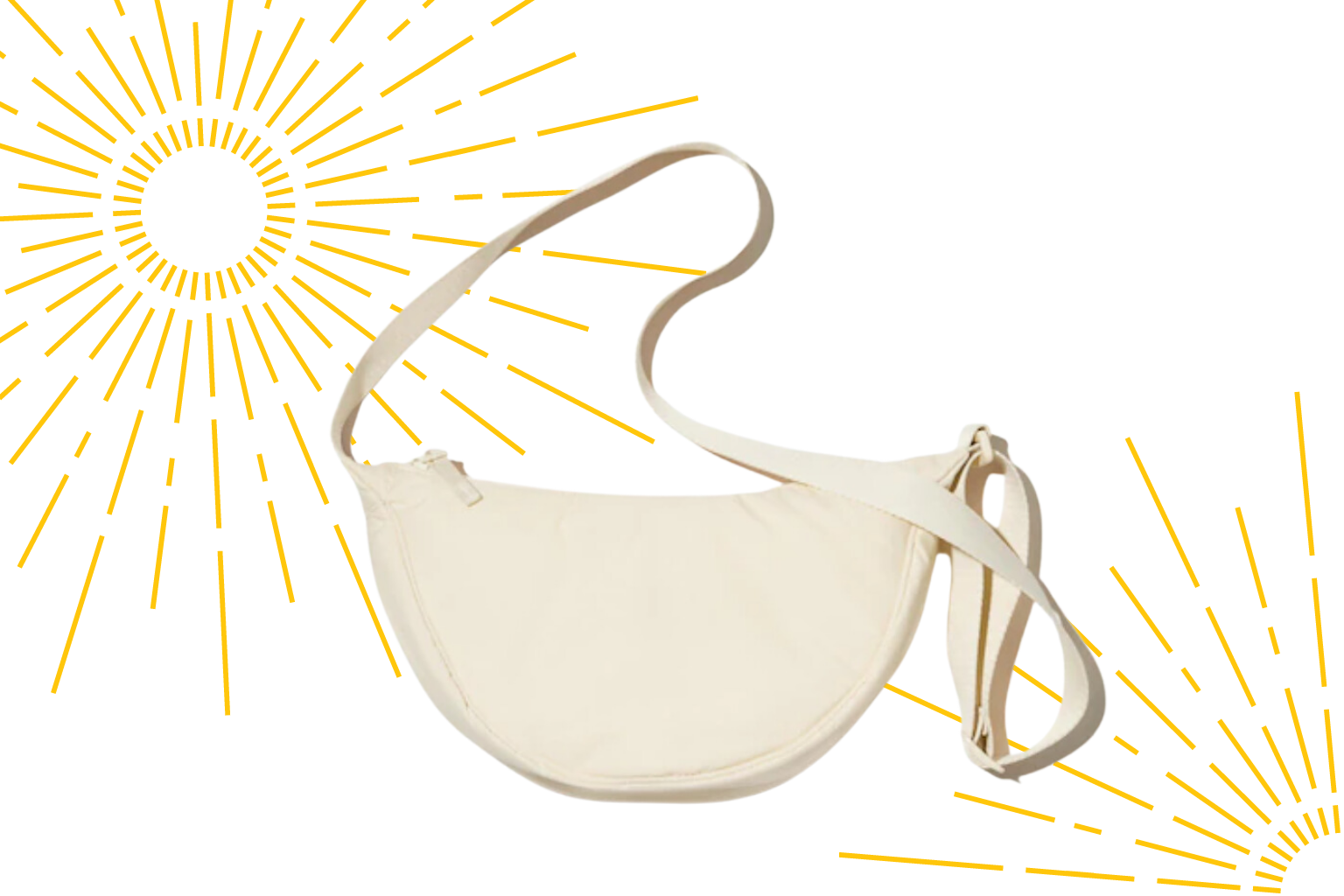 Round Mini Shoulder Bag – UNIQLO
This casual shoulder bag from UNIQLO recently went viral for its combination of practical design and comfy padding. It has a sturdy base that allows it to hold more than a typical belt bag, and it can be worn as a crossbody or over-the-shoulder purse. 
Wherever you're headed, The Bellevue Collection can help get you there in style. For more ideas and inspiration for your next vacation, visit Bellevue Square to see our fashion display frames, located throughout the first level.